Whitney Houston and Cee Lo Green have added Sparkle (the trailer)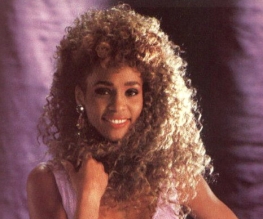 It would appear that the whole tragic-movie-star bathtub demise thing wasn't the only cracked-out thing Whitney Houston did in her last few months. The new trailer has surfaced for Sparkle, the Motown musical which was Whitney's last cinematic work, and it's tremendously awkward that she is completely the worst thing about it. Worse, even, than a Cee Lo Green – singing a cracking cover of I'm The Man – with a full head of hair.
Making everyone grumpy and uncomfortable, Whitters sets the tone of the whole trailer when she strolls up to American Idol alum Jordin Sparks and asks her if "my life isn't enough of a cautionary tale?" People usually over-praise posthumous roles, as if the dead person in question is in a place to give a single fuck, but we've a feeling this might just buck the trend.
The story goes pretty predictably; Whitney's errant Supremes-esque daughters start living life in the Sixties in more-or-less a carbon copy of the utterly lovely Dreamgirls from 2006. Without the star-studded cast or the zero-studded budget of the film that won Jennifer Hudson the Best Supporting Actress Oscar, Sparkle seems treacly, trite and overdone. Singers rarely make good actors, especially when it's done out of desperation (Jordin Sparks' quality of music work has declined in direct proportion to her BMI), and Whitney always required a decent supporting cast (questionable, here) to turn out good work – see Waiting to Exhale.
In all honesty, it's only Cee Lo that's going to force us to see this. That, and sometimes it's just nice to sit back in the comforting polyester arms of a dark cinema and let a troupe of God-fearing black women tell you what to do – they are like your mother, but nicer, and usually come with some form of food.
Sparkle comes out on 5 October 2012.
About The Author