Will Alec Baldwin join MiB 3?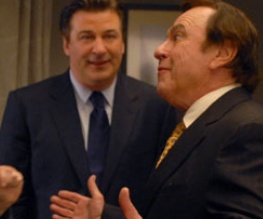 It's still in the rumour stage, but its looking like comedy legend Alec Baldwin may join the growing list of excellent humans involved with Men In Black 3. So, what's his part? This is where it gets interesting…
If he was to climb aboard, he'd be taken the role of Head of MiB, Zed. "Wait!" We hear you rise up and cry beautifully as one, "that role's taken, brother! That role belongs to the whirling dervish that is Rip Torn!" Ah yes, but you seem to have conveniently forgotten that the last few years haven't been kind to ol' Rip, who these days seems to prefer his boozing to his fine film making. And anyway, Alec would in fact be playing Zed's predecessor, leading MiB in the '60s (remember the whole "time travel" thing? Yeah, that's still happening).
The funny thing is that Rip Torn has in fact played Baldwin's predecessor in the lovely comedy series 30 Rock, so presumably its a situation they're both comfortable with. And who knows, we might as yet get Rip back for some present-day MiB fun? We'll have to wait and see…
About The Author