Will Elle Fanning join Angelina Jolie in Maleficent?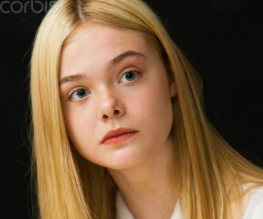 Considering how long we've been aware of Maleficent, we've actually had very few details of the film come our way. Up to today, all we knew was that it would be an alternative take on the Sleeping Beauty story, with Angelina Jolie playing the titular anti-heroine. So hurrah and jolly-good for today's news – according to Twitch it sounds like Somewhere's Elle Fanning is in talks to play opposite her, as the princess causing all the bother to begin with. Excellent choice, we reckon.
The 13 year old starlet (13 years old?! WEEP WEEP) is best known for roles in Super 8 and the upcoming We Bought A Zoo, but she'll probably stay in our hearts as the only thing that make Sofia Coppola's Somewhere vaguely bearable. The interesting thing about casting Elle as Princess Aurora is that she will be a much younger protagonist than the traditional story suggests. So with the presumed absence of a love-interest, will the story feature far more on the relationship between evil queen and innocent princess? We're genuinely looking forward to learning more.
About The Author