Will Ferrell and Jack Black to play tag brothers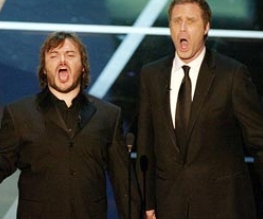 Will Ferrell and Jack Black seem to be best buddies in real life. But, except for that "this burrito is good but it is SO FILLING" scene from Anchorman, they have barely shared the screen together! As two of our faves we have been wanting this to happen for some time. And now it seems to be on the cards!
Ferrell and Black are set to star in Tag Brothers, based on the true story that earned international attention after there was a piece on it in the Wall Street Journal. It tells the story of friends and former classmates in Spokane, Washington who have an annual tradition of playing an epic game of tag. The game consists of chasing each other across country every February – and whoever is "it" has to stay so all year. Pretty childish, we know. But with the frat pack involved we can see this working.Although they haven't 100% confirmed at this point – both Ferrell and Black are very interested and are just waiting to see how Mark Steilen's screenplay turns out. So we'll just have to wait and see..
About The Author