Will Ferrell Returns In… Anchorman 2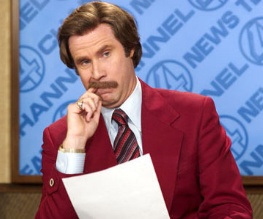 Will Ferrell's Anchorman was a cult-comedy favourite, so it's unsurprising that the guys in suits are looking to make a sequel.
And, in a moment of utter genius, they've dubbed the new film Anchorman 2.
Funnyman Ferrell announced the news on Conan O'Brien's TBS talk show as Ron Burgundy:
"I want to announce this to all of our friends in the Americas, Spain, Turkey and the U.K. — including England — that as of 0900 mountain time, Paramount pictures and myself … have come to terms on a sequel to 'Anchorman'… There will be a sequel."
Celebrations began all across the globe, with Britons throwing fetes, Americans lighting fireworks and Ewoks throwing a pretty damn awesome party on the moon of Endor.
It's also been confirmed that Steve Carell and Paul Rudd will be returning alongside Ferrell to reprise their roles of Brick Tamland and Brian Fantana. Huzzah!
But what's the storyline?
Erm… nobody quite knows yet. Director Adam McKay and Ferrell will be penning (or keyboarding) the script together, but are still looking for inspiration.
Are you excited for Anchorman 2? YEAH YOU ARE!
About The Author