Will R-Patz join Catching Fire?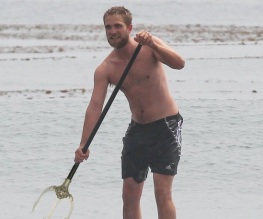 Not content with starring in just two of the biggest teen movie franchises of all time, Robert Pattinson is reportedly considering adding the Hunger Games film series to his CV alongside Harry Potter and Twilight.
Pattinson is reportedly being considered for the role of Finnick Odair, a womanising, trident-wielding twat (or is he?) who appears early on in Hunger Games sequel Catching Fire and becomes steadily more important, sympathetic and badass for the rest of the trilogy. He's also repeatedly described as the hottest piece of ass in Hunger Games history, with a bronzed body and shock of brilliant blonde hair that complement his intense sea-green eyes. Sounds uncannily similar to pasty vampiric weed R-Patz, doesn't he?
Francis Lawrence, who directed Pattinson in Water for Elephants, has taken over from Gary Ross as the top dog on Catching Fire – maybe he'd just rather take on someone he's already worked with…
In all seriousness, The Hunger Games is a cracking film which looks like it may well be the start of a solid and unusually intelligent series – R-Patz mania would only detract from that. And anyway, isn't the man himself supposed to be setting aside childish things and becoming a real actor? Cosmopolis is hitting Cannes this week, after all. Here's the deal, Rob, we won't mention Bel Ami if you leave Jennifer Lawrence alone…
What would you think of Robert Pattinson playing Finnick? Let us know below!
About The Author