Will the Pythons reunite for Terry Gilliam's new film?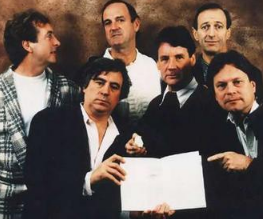 It's been many years since all of the surviving Pythons shared a screen. All of them bar Idle took part in the recent A Liar's Autobiography , an adaptation of Graham Chapman's dubious life story – but it was back in 1998 that we last saw the entire team together (at the Aspen Comedy Festival along with an urn that allegedly contained the ashes of late member Graham Chapman). So it's with no small amount of excitement that we tell you it MIGHT be time for the boys to join forces once again. Oh my.
Terry Jones, director of Life of Brian and The Meaning of Life, as well as co-director (with Terry Gilliam) of Monty Python and the Holy Grail, is to helm a sci-fi farce by the name of Absolutely Anything. The premise is that a load of aliens imbue a lowly human being with the power to do… well… absolutely anything, with no doubt disastrous consequences. All the other Pythons bar Eric Idle (so Terry Gilliam, John Cleese and Michael Palin) are being lined up to voice the aliens, with no word as to whether Idle will lend his talents. According to Variety's report, Robin Williams may voice a dog. Super.
It's that strange tension between longing to see all the Python boys together again and wanting to make sure their great legacy remains untainted. I'm not sure we – never mind humanity as a whole -could handle a Python flop. What do you make of it?
About The Author