Will Veronica Corningstone return to the studio for Anchorman 2?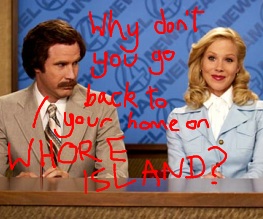 Christine Applegate has hinted that her impeccably coiffed Anchorman character Veronica Corningstone may not appear in overdue sequel The Legend Continues.
Corningstone, with her non-regional diction and propensity for attracting bears, provided much of the narrative thrust of Anchorman by whipping lead anchor Ron Burgundy (Will Ferrell) into a frenzy of lust (mostly expressed through jazz flute).
However, despite the final moments of the first film showed Burgundy and Corningstone as co-anchors at the World News Center (apparently in the 80s, judging by the hair), only Ferrell and his three costars Paul Rudd, David Koechner and Steve Carell have confirmed roles in the sequel.
Speaking to E! Online, Applegate described Anchorman as "the best job I've ever had – that and Sweet Charity". She also said she'd be happy to take a walk-on part even if her character didn't form part of the main storyline. The spectacularly obtuse teaser we saw last month didn't give anything away, but we'd quite like to see Veronica back in the Channel 4 newsroom – God knows the sequel will need something to cut through all that ghastly testosterone-heavy posturing. We're not fifteen any more, guys…
Do you think Veronica should return for Anchorman: The Legend Continues? Let us know below!
About The Author