Woody Allen deputises Diane Keaton to collect award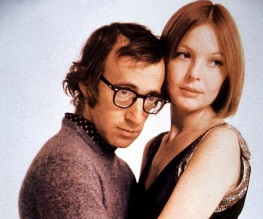 Despite winning four Oscars, two Golden Globes, nine BAFTAs (plus the Fellowship) and a host of other gongs over the years, Woody Allen doesn't make a habit of going to awards ceremonies; the only time we can recall him turning up to one was when he introduced Nora Ephron's montage of New York films at the 2002 Oscars, just months after 9/11. So when the Hollywood Foreign Press Association announced its intention to honour the actor, writer, director and paedophile with the Cecil B. DeMille Award for "outstanding contributions to the world of entertainment", nobody was really expecting Allen to show up.
However, in a charming and apposite turn of events, Entertainment Weekly has confirmed that Allen's one-time partner and frequent leading lady Diane Keaton is to accept the prize on his behalf. Keaton won her Best Actress Oscar for Annie Hall (which was also awarded Best Picture, Best Director and Best Original Screenplay), and is still probably best known for her long association with Allen.
We'll look forward to seeing Keaton on January 12th for the Globes. The only question, really, is this – is there any remaining award that's capable of tempting Woody Allen onto the stage himself? We reckon he'd turn up if he was made President, but that's about it.
What's your favourite Woody Allen film? It's Annie Hall, isn't it? Standard.
About The Author