World's first Sail-In Cinema to hit the Isle of Wight!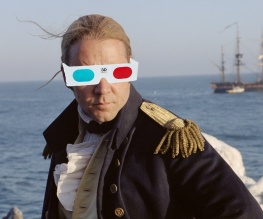 This might just be the best thing in the world, ever. Remember drive-in cinemas? Well, Cowes Week regatta sponsors Talisker have gone one further (and, while they're at it, inadvertently laid plans for the future of mass entertainment post-global warming) – they're building the world's first Sail-In Cinema on the Isle of Wight.
No, you didn't read that wrong. On Friday 12th August, one and all will flock to visit the Esplanade in West Cowes, where at 7pm a THIRTY EIGHT FOOT SCREEN will show Russell Crowe at his salty finest in Master and Commander: The Far Side of the World.
What's more, this event is free (the only hitch is that you sort of need to have a boat). Simply sail up, tune your radio to 87.7FM to pick up the audio, and relax in front of a great seafaring film – perhaps with a wee dram of Talisker at your side. And don't forget to keep a weather eye open for the good ship BFF! We'll probably be crashing into something.
(Disclaimer: the film is very much not in 3D, Russell just looked a bit squinty.)
About The Author