Wreck-It Ralph gets another ace trailer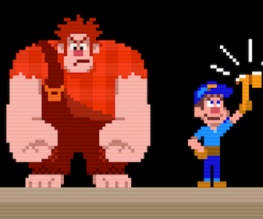 Wreck-It Ralph has already delivered one excellent trailer, but now the kind folks at Disney have seen fit to bless us with another – and it's just as brilliant! If you've ever played a video-game – be it Pac-Man, Mario Kart, Halo, or anything in between – then you need to watch this trailer. There are certain gags that are likely to be lost on those who don't know their Master Chief from their Master Chef, but don't let that scare you away; Ralph looks charming enough to cater for all tastes, despite the geeky setting. See for yourself!
Wreck-It Ralph promises to do for video-games what Toy Story did for toys, with the plot involving the characters that populate the games having lives of their own, once the arcades close and the greasy-fingered children leave them alone. Wreck-It Ralph is the bad guy in an 8-bit game, and spends his days, weeks and years destroying a building, only to be foiled repeatedly by Fix-It Felix. Worse than that; being a bad guy, the digital denizens of the arcade won't even associate with him outside of work hours.
Eventually, enough is enough, and Ralph takes it upon himself to explore more of the world, venturing into various other games to prove that he can be a good guy. Unfortunately, his adventures through the games inadvertently end up threatening the entire arcade, and Ralph's heroic mettle is tested far more than he had ever bargained for.
Wreck-It Ralph has it all; with stunning visuals, a classic story, a great voice-cast and a litany of video-game references that it'll probably take multiple-viewings to truly appreciate (Frogger! Bowswer! Zangief from Street Fighter!), the film is bursting with ideas – witness the 'bad guys anonymous' meeting – and is funny with it. That line about not hitting a guy with glasses is a joy. In fact, the whole thing is a sheer joy.
If the film can deliver all that the trailer promises, then this might be Disney's first animation in a long time that can hold its own against the might of Pixar. Not only that, but Wreck-It Ralph is a rare instance of a film being ahead of schedule, and we'll get in the UK on February 12th 2013. Just as well, because we cannot wait!
About The Author