X-Men: Days of Future Past might yet include Alan Cumming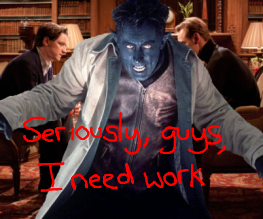 X-Men: Days of Future Past has begun production, so one would have thought that any actor set to appear in the sequel to X-Men: First Class would have been called by now – Ian McKellen and Patrick Stewart certainly have been. Alan Cumming, the actor who played Kurt Wagner aka Nightcrawler in X:2 (he was AMAZEBALLS), has professed interest in returning to the X-Men franchise, but claims he hasn't been called yet.
The kerfuffle over why Alan Cumming did not appear as Nightcrawler in X-Men: Last Stand is rather indicative of why that film was completely naff: despite being a fan favourite, the studio reduced Nightcrawler's part to mere pittance. They then felt that the exceedingly long and painstaking time it took to douse Alan Cumming in blue paint wasn't worth the effort, so they CUT HIS CHARACTER ENTIRELY! It was obviously this absence of Alan Cumming that doomed X-Men: The Last Stand to sub-mediocrity.
Alan Cumming sounds up for making an appearance as the German teleporting mutant in X-Men: Days of Future Past:
"Someone told me that Nightcrawler doesn't appear in the story, but I don't know. I think they would have called by now, but I really like [X-Men 2] and everyone really responded to Nightcrawler. Enough time has elapsed that I would like to go back."
Although it sounds like Nightcrawler isn't in the story of X-Men: Days of Future Past, it would be a missed opportunity. X-Men geeks will know that Nightcrawler is actually the product of copulation by Mystique (Jennifer Lawrence) and Azazel (Jason Flemyng). This is why Nightcrawler has Mystique's Avatar-blue skin and Azazel's smokey teleportation powers. It's all a rich tapestry, people! A tapestry of X-Men!
Alan Cumming's career hasn't been great since he was axed from X-Men: The Last Stand. Evidently playing the role of Nightcrawler has cursed him somewhat, so a nice juicy cameo in X-Men: Days of Future Past might reinvigorate his career. Although he is known to most people as one of the X-Men, he will always be most fondly remembered by us at BFF Towers as Boris in Goldeneye, who was apparently invincible, although we saw no evidence of this claim. Famke Janssen was also in that movie, so it would be a nice little reunion if they both found cameos in X-Men: Days of Future Past.
Let's hope it turns out better for Alan Cumming than what happened to him in Goldeneye.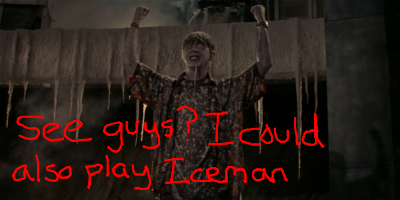 The return of the incredible Nightcrawler to X-Men? What other mutants would you like to see return in X-Men: Days of Future Past?
About The Author