Zack Snyder's Man Of Steel logo revealed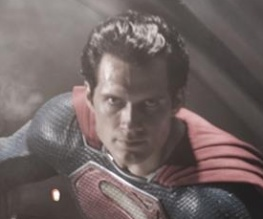 All's been fairly quiet on the Superman score for a goodly while now, ever since we got a first look at Henry Cavill in costume back many months ago. Could it be because Zack Snyder's Man Of Steel isn't going to be out until 2013? Is it because they're listening carefully to Best For Film's moaning about too much superhero information? Who knows. Probably the latter – we're kind of a big deal. But either way, the Super-team has released a first look at the new logo, and boy is it exactly what we thought it was going to be. But, you know, in a perfectly fine way.
Take a look, it's slightly gritty and stuff:
Yeah. Fine, right? Nothing really remains except to remind ourselves where exactly we are with this reboot. So we've got Cavill on cape-duty, Lawrence Fishburne as the Daily Planet's editor-in-chief Perry White, Amy Adams as Lois Lane and the brilliant Michael Shannon as antagonist General Zod. Though we're still in the dark as to the exact storyline, we kind of prefer it that way. All we need to know for now is that the two Kryptonians will be going toe-to-toe in Snyder's darker (always with the darker) adaptation, hopefully meaning a return to form for the director after the foamy mess that was Sucker Punch. KEEP WATCHING THE SKIES!
About The Author