Zero Dark Thirty gets tantalising new poster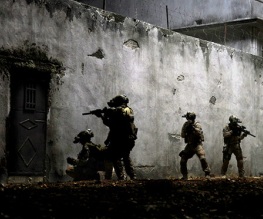 Zero Dark Thirty is just around 2013's corner, and it's quietly building steam as something special. Kathryn Bigelow became seriously hot property after becoming the first woman to receive the Academy Award for Best Director. She's following up the enormous success of The Hurt Locker with another jaunt in the Middle East, but this time the stakes are considerably higher. Zero Dark Thirty is the story of the ten-year hunt for and eventual killing of Osama Bin Laden in his Pakistan hideout, and with the reveal of an enticing new poster (click to enlarge), anticipation is reaching fever pitch.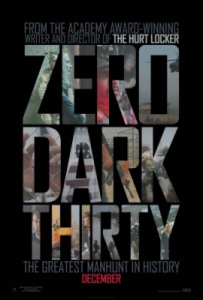 Understandably acknowledging that the story is bigger than any one individual, Zero Dark Thirty's poster thrusts its endlessly repeatable title at us in huge lettering (military code is sooo kewl), stenciled over muted images of action on the ground and in the air. There will be helicopters, explosions, and probably a lot of use of the stars and stripes as an ambiguous visual motif.
Expanding on August's teaser, the official trailer for Zero Dark Thirty looks to have combined the jargon-heavy action of Call of Duty with the office-based strategy of TV's Homeland. Consider us tantalised. Whatever Zero Dark Thirty turns out to be, it should serve as a definitive addendum to the era of cinema that birthed films such as The Kingdom, Body of Lies and Green Zone. However, Kathryn Bigelow is surely shrewd enough to acknowledge that America's war on terror didn't end with a bullet in Bin Laden's head, so we don't expect Zero Dark Thirty to pull its punches concerning the surrounding complexity of the nail-biting mission.
What do you think of Zero Dark Thirty's latest poster? Let us know below.
About The Author