Alvin and the Chipmunks: The Squeakquel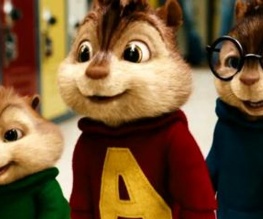 You don't need us to tell you this was never going to be a good film. The title alone is enough to not only toy with your upchuck reflex, but also cause you to file this one away to the 'only if I'm stuck on babysitting duty' box. Still, we live in an age where kids' films are fast becoming an art form all their own – from Up to Where the Wild Things Are, this year's family offerings have allowed us all to shamelessly enjoy ourselves at the cinema with the under 10s. So perhaps some out there among you are curious whether The Squeakquel could rise to the occasion? After all, it's based on an animated series a lot of us Gen Y-ers grew up on. And yes, the first movie was abysmal even by child entertainment standards (and despite the inclusion of the usually dependable Jason Lee), but perhaps 20th Century Fox realised what they were up against in the newly competitive family film market and picked up their game. Turns out they didn't, though.
Chipping Away
[FLOWPLAYER=http://uk.clip-1.filmtrailer.com/2911_7060_a_3.flv,275,180]
Following the Chipmunks' rise to fame as a pop group in the first movie, The Squeakquel sees our high-pitched protagonists dealing with fame, or not dealing with it – while Alvin has let the fans' adoration go to his head, Simon and Thedore have turned into moody teenagers. With their songwriter-slash-guardian Dave (Jason Lee, who's smartly distanced himself from this turkey) holed up in hospital after a mobbing incident at the Chipmunks' concert in Paris, the responsibility of seeing the rodents through their various high school dramas is turned over to Dave's geeky nephew Toby (Zachary Levi). Oh, and to really spice things up, they've thrown in some musical competition for the little scamps in the form of rival group the Chipettes (voiced by Christina Applegate, Amy Poehler and Anna Faris – nothing like a good animation for B-grade actresses to turn to in a recession).
Mild and Mediocre
Don't expect anything more than exactly what you were dreading when you go to see this movie (presumably against your will). Director Betty Thomas has given us a kids' movie in the traditional sense of the word – formulaic plot, slapstick humour, overreliance on cutesyness of characters as a substitute for any kind of acting. David Cross, as the Chipmunks' sleazy former manager who's now looking after their rivals, has a few funny scenes, but that's as good as it gets. The Squeakquel might be a good alternative for younger kids who'll have trouble following the more mature themes in something like Where the Wild Things Are, but for anyone over five, you can do better.
Did you find the Squeakquel anything less than inane? What do you think of the fact that it's currently sitting atop the UK box office charts? Leave your thoughts below.
About The Author