Being Elmo: A Puppeteer's Journey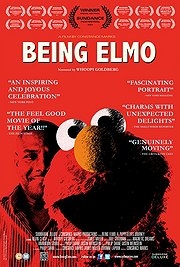 A must-see for anyone wondering JUST HOW they get Kermit's seams so damn neat, and a feel-good hour and a bit for everyone else, Being Elmo: A Puppeteer's Journey focuses on the history of Kevin Clash; the man who invented the most dearly loved Muppet in Henson history. Its short running time mean the heart-warming tale breezes past cheerfully, though unlike Kevin himself we never quite feel like we've really got a proper grip on the furry proceedings.
Growing up in Baltimore, young Kevin would spend hours in front of the television, completely transfixed by Jim Henson's creations. Cutting up his father's coat in order to make his very first puppet aged 8, he was worried about the retribution from his parents but couldn't resist showing off his creation. Their reaction to their young son's blossoming sewing talents? "Next time, just ask." Lacking the funds to visit the Henson team in New York, Clash instead spent the next few years staring hungrily at their broadcasts, learning everything he could about the art of puppeteering from the frustrating side of the screen. Staging impromptu shows for the kids of the neighbourhood, Kevin eventually bagged an audition for a local kids tv show; never keeping his eyes off the actions of Henson and co-creator Kermit Love. Clash was rewarded with a meeting with his heroes on a school trip to New York city, and the moment the pros saw Clash's talent and passion, the rest was basically history.
Being Elmo: A Puppeteer's Journey whizzes through Clash's family history with beaming testimony from his proud parents and co-workers, all of whom are more than happy to wax lyrical about the boy born to bring joy to children across the globe. It's all very nice, exceedingly cheerful and almost suspiciously feel-good. By the time you're watching Whoopie Goldberg explain that Elmo's continuing resonance is the fact that he is the personification (muppetification?) of pure love, you'd have to be mad to argue anything except Clash's enduring Good Influence on the world of children's entertainment.
The problem with Being Elmo is that, like its cuddly protagonist, it's absolutely determined to only focus on the positive. Glimpses of Clash's fairly turbulent family life – the daughter who wrote him a letter begging him to spend some time at home before she went away to college, the wife and sisters-in-law forced to deal with a man unable to fathom a baby as anything other than another puppet to be played with – are fascinating but, unfortunately, all too fleeting. Underlined over and over again is the idea that Clash is only truly himself when transformed into Elmo – an undeniably interesting trait that is cheerfully glossed over rather than explored in any real detail; celebrated rather than analysed. Cash's insistence that his family is the most important thing in his life is countered by the total lack of footage with either wife or children, and you can't help but wonder whether there's a different, slightly quieter and possibly slightly sadder story to be told, of a man who only truly comes to life when channelling a character he's not.

But having said all that, would we really want to be led nose-first down a path of personal puppety tragedy by Elmo and co? Possibly not. Saccharine intentions aside, there's certainly much joy to be taken from watching a man who is clearly immersed in his work, and a calling that brings happiness (not to mention extensive merchandise) to kids all over the world. At best a heart-warming tale of the importance of following your dreams, at worst a slightly shallow extended advertisement for the Disney State Of Mind; Kevin Clash and Being Elmo: A Puppeteer's Journey is pretty inoffensive, it's only goal being to pull at your heartstrings. And hey, it's unlikely we'll find a man more suited to the job, right?
About The Author