Beginners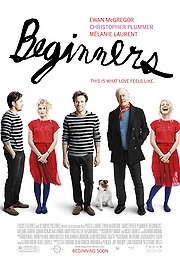 Wouldn't it be lovely to see a well loved Brit star along-side a Canadian movie veteran and a beauty of a French newcomer? Oh wait, Beginners has just that. This talented cast star in a tale of a young man dealing with his father's coming out; based on the real life of director and writer Mike Mills.
It's the year 2003. Thirty-eight year old graphic artist Oliver Fields has just tragically lost his father Hal Fields to cancer, after Oliver's mother Georgia Fields passed away five years earlier of the same disease. Oliver has always been a naturally brooding-type due to his bizarre relationship with his parents while growing up (his mother had a slightly unique view on life), but he is more so now because of his devastating family loss. After Georgia's death, we learn, father Hal came out of the closet and began to live with an enthusiasm that did not exist in him before, which included embarking on an open relationship with a much younger man named Andy (Goran Visnjic). The film intertwines the period just before Hal's slow decline with that of just after his death, skipping between past and present, and showing Oliver start up a relationship with French actress Anna. Oliver hopes that his do-over relationship with Hal – and Hal's new outlook on life in the time before he died – will show Oliver how to be in an actual, grown-up, loving relationship. But is the pressure too much to bear?
Here is a fact – Ewan McGregor is a great actor. He makes us laugh, he makes us cry and he makes us feel, but the one thing he can't make us do is believe that he is American. It's just too hard to ignore the twangs of a kilt-wearing Scotsman at the end of each word – nil points there Ewan, sorry. He does however completely and without fault have that whole actor-to-actor chemistry thing down. With other actors, yes, but mainly with his co-star, Arthur – Cosmo the dog. Arthur is Oliver's inheritance, his pal, his confidant and his life support machine throughout this trying time in his life. They go nowhere without each-other, they can not bear to be apart, and their meaningful and insightful conversations probably rival those of most humans (particularly if said humans were donned head to toe in bling and technicoloured tracksuits).
Back to the human world. The scenes between father and son during Hal's final stage of cancer are first-class, and they are enhanced by two brilliant actors – McGregor, who is now in a mid-career phase, does the heavy lifting, allowing Plummer to let go in a lovely, joyous celebration of new-found liberation.
Anna (Laurent) and Oliver's relationship is rather lacking in depth and involvement, but then their relationship is not really the focus of this tale. Much more time given to the father-son storyline, and it is this relationship that we follow. In some ways this is a little disappointing, as there is obvious talent brewing within Laurent and it would have been nice to see her have a chance to release it fully. But don't worry, her time will surely come.
Beginners is a delightful, unusual little film, showing us that youth doesn't necessarily come from age. Oliver is a man struggling to find meaning in his life, while his old, sick father appears to be living enough for the both of them. What emerges from this apart paradox is a delightful, quality piece of cinema which in its own little ways is unique.
About The Author