Couples Retreat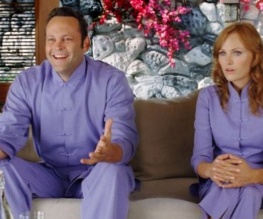 Love is a warzone and the front-line is at one of the most beautiful locations on the planet. Peter Billingsley's mind numbingly boring "comedy", starring Vince Vaughn, Jon Favreau and Dana Fox was filmed on the remote Pacific Ocean island of Bora Bora. It seems that the film was only really made as a crappy excuse for best buddies Vaughn and Favreau to enjoy a free holiday with some of their acting mates.  The script is completely void of anything which may induce even a smile, let alone tears of laughter. Our entertainment must have been the last thing on their minds. To deem Vaughn, Favreau and Billingsley's monstrosity as a comedy would be ironic to say the least. In fact, the film is more like a drama – especially considering all of the therapy sessions which the nominal couples attend in order to work through the kinks in their relationships. And to make it even more cringe-worthy than it already is, the screenwriters have the audacity to resolve all of the underlying tensions, hurt and resentment with a 'happy ever after' finale.
[FLOWPLAYER=http://uk.clip-1.filmtrailer.com/2519_5714_a_3.flv,275,180]
A long and tedious sequence involving a scantily-clad yoga instructor (Carlos Ponce) gyrating inappropriately against married clients drags on for what seems like forever. Jason (Jason Bateman) and his wife Cynthia (Kristin Bell) are contemplating divorce and they decide to give the relationship one last chance. They go to the tropical resort of Eden, which offers seminars for married couples to rebuild love and trust. "It's got fun, it's got sun, it's like Disneyland for adults," Cynthia tells their social circle; Dave (Vaughn) and wife Ronnie (Malin Akerman); Joey (Jon Favreau) and wife Lucy (Kristin Davis); and Shane (Faizon Love) and new girlfriend Trudy (Kali Hawk). Cynthia invites the three couples to join her and Jason on the "Pelican Package" group rate. While the potential divorcees rebuild their relationship, the friends can enjoy the jet-skis, diving and fine dining. When the four couples arrive, they soon find out that there's a catch. "You either partake of the entire package, or have none of it," instructs po-faced guide Stanley (Peter Serafinowicz). So the entire group take parts in a programme of challenges designed by the enigmatic Monsieur Marcel (Jean Reno).
Couples Retreat is packed with sexually suggestive innuendos and the occasional sentimental exchange between the eight characters. This comes as no surprise considering the massive lack of communication between themselves, not to mention the failure to communicate anything to us, the audience. It is impossible to think that even for a moment, such shallow, two-dimensional people like these characters would be able to retain any kind of goodness from learning lessons in love and life. We are left feeling nothing but loathe for these lovebirds as they magically go from confusin to reconciliation, and find ourselves wholeheartedly agreeing with Jason when he dismisses Shane's new flirtation thus: "It's been two weeks. It's not a relationship, it's an antibiotic cycle." Vaughn and Favreau's attempts at comic witticisms are predictably dull. The saviour of the film is probably cinematographer Eric Alan Edwards who at least manages to capture the beauty of the backdrop of the film. As with all 'romantic comedies', we can expect a certain level of flinchy and nauseating material but Couples Retreat skips that and takes us straight to snore-ville. Happy ending or no happy ending, this film is no haven and quite frankly makes me glad I'm single.
About The Author