Damsels in Distress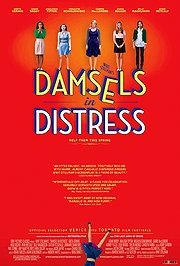 Thank heavens for Greta Gerwig. Yes, she might have embarrassed herself by taking the romantic lead in last year's Arthur, but her performance in Damsels in Distress is one of the few elements that doesn't make you want to tear your hair out. At its best, Stillman's film is funny and authentic in its take on friendships and relationships, but at its worst it is stilted, obnoxious and bears a bizarre resemblance to a corny soap opera.
Violet (Greta Gerwig) is an oddball young woman who lives in a mini sorority set-up with her two best friends, Heather (Carrie MacLemore) and Rose (Megalyn Echikunwoke). They all dress – and to a certain extent even behave – like Stepford Wives, down to Rose's cut-glass English accent, and their modus operandi seems to be seeking out loser boys and crafting them into suitable boyfriends. When unsupecting transfer student Lily (Analeigh Tipton) turns up, the girls pounce on her, taking her under their wing and introducing her to their way of life.
When not seeking out loser boys, the girls spend their days at a suicide prevention clinic, doling out free doughnuts to the depressed and signing them up for therapeutic tapdancing classes. Lily is swept along with the girls' crusade, but also finds herself having boy troubles, with a French grad student and a mystery man called Charlie (Adam Brody). Meanwhile, Violet gets her heart broken by her moronic boyfriend Frank and wanders off to a motel where she discovers a bar of soap that smells so delightful she finds her spirits raised. Running alongside the whole thing is Violet's continuing obsession to create a new dance craze. You get the idea. It's just…I don't even know.
Essentially – as the above paragraph may have indicated – this film DOESN'T HAVE A STORY. It more closely resembles a series of episodes in a TV show, run together in one go, like when you're lying on your sofa on a Tuesday afternoon and you end up watching seven episodes of Greek because the remote is on the other side of the room. Ultimately, in place of a solid plot is a collection of events surrounding the same characters and themes: love, break-ups, sex, being a weirdo. Perhaps the thing closest to what you would call a throughline is Violet's pervading ambition to invent a new dance craze, but even that falls by the wayside in favour of odd offshoot strands: Heather's colour-dyslexic boyfriend Thor, the tapdancing depressives (including a cameo from Aubrey Plaza), the girls' campaign to send soap to one of the particularly odorous fraternity houses.
Stillman's writing smacks of self-indulgence, leaning towards funny musings and observations rather than a through-line that is solid and character driven. Frequently, the characters embark upon conversations that just don't lend themselves to the context in which they are delivered – an irritatingly long and unfunny exchange about the spelling of the name "Xavier", for instance. Perhaps the idea is to reflect the inanity of the majority of human interaction but, in the context of a deliberately heightened film such as this, Whitman's script often feels more pretentious than authentic.
Perhaps the most frustrating thing about Stillman's film, though, is seeing its potential squandered. Gerwig is truly charming as the slightly tragic Violet, who moves through life with the best intentions but finds herself consistently let down by the world's inability to understand her. There is also a great deal of truth to be found within her complicated friendship with Lily. Stillman cleverly points out the hypocrisies and shifting statuses inherent to a close friendship between two young women such as Violet and Lily, and it feels as though there is an interesting story to be fleshed out between these two. Ultimately, however, like every other strand in Damsels in Distress, Lily and Violet's story is swamped by the slack, self-indulgent storytelling.
About The Author