Death At A Funeral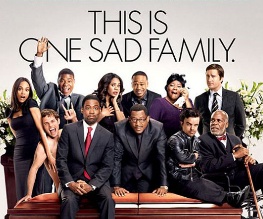 Remakes have become the scourge of a Hollywood system starved of creativity and imagination. No sooner has a subtitled film won critical plaudits than there are whispers of an English language retread. A reinterpretation of the Swedish coming of age story Let The Right One In, directed by Matt Reeves (Cloverfield) and re-titled Let Me In, opens in multiplexes this Halloween. Now it seems that British films simply aren't good enough for audiences across the Atlantic because director Neil LaBute has remade the 2007 comedy of errors, Death At A Funeral, transplanting the action to a middle-class suburb of Los Angeles.
If at first you don't succeed…
[FLOWPLAYER=http://uk.clip-1.filmtrailer.com/4209_11579_a_3.flv,275,180]
In the original, the grieving widow rebuffs the umpteenth offer of Earl Grey with a derisory, "Tea can do many things dear, but it can't bring back the dead!" Across the Atlantic, the tea is replaced with a hot cup of java: "Coffee may do many things, but it cannot bring back the dead!" Ho ho ho. Certainly a joke so good it had to be made twice. Craig does not change the plot or the thinly sketchy characters. It's a thoroughly pointless exercise.
We shouldn't speak ill of the dead, but…
When their father dies, Aaron (Chris Rock) and his novelist brother, Ryan (Martin Lawrence), rush to the side of their mother, Cynthia (Loretta Devine). Cousin Elaine (Zoe Saldana) and her boyfriend Oscar (James Marsden) arrive for the service, while Aaron's wife Michelle (Regina Hall), who is desperate to fall pregnant, endures barbed quips from Cynthia. "You can't understand death until you've given life," sneers the matriarch. Curmudgeonly wheelchair user Uncle Russell (Danny Glover) kicks up a stink – literally – before a mislabelled bottle of hallucinogenic drugs wreaks havoc. The sombre mood is shattered when a stranger called Frank (Peter Dinklage) arrives with a shocking secret about the deceased. Determined to protect the people they love, Aaron and Ryan join forces to bury their old man and all of the skeletons from the family closet.
Do Not Resuscitate
Death At A Funeral will be of no interest to audiences who saw the original film and suffered the loopy contrivances in Craig's ramshackle script. The whiff of homophobia in the British version becomes an eye-watering stench here as the family wrestles with revelations about one character's alleged homosexuality. "I've seen Dreamgirls three times. That doesn't make me gay!" screeches one of the mourners. Marsden embraces his slapstick role with gusto, stripping off for a set piece on the roof after telling the assembled mourners, "The coffin is moving!" Alas, LaBute's film is as lifeless as the patriarch at the centre of the recriminations. We may not be mourning any of the characters, but we're certainly racked with grief about the apparently death of comedy.
What did you make of Death At A Funeral? Talk to us…
About The Author