Diary of a Wimpy Kid: Rodrick Rules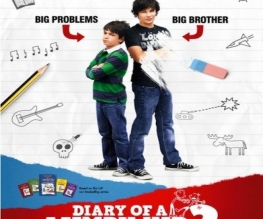 The sequel to 2010's surprise hit, Greg Heffley (Zachary Gordon), the kid who made 'wimpy' cool is back in an all-new family comedy based on the best-selling follow-up novel by Jeff Kinney. As he begins seventh grade, Greg and his older brother – and chief tormentor- Rodrick must deal with their parents' misguided attempts to have them bond. Finding it hard to adjust to life in the seventh grade and having a crush on classmate Holly Hill (Peyton List), Greg has to juggle being a good son in his family as well as learning a few lessons for himself.
[FLOWPLAYER=http://uk.image-1.filmtrailer.com/73500.jpg|http://uk.clip-1.filmtrailer.com/6873_22884_a_4.flv,275,180]
First things first, Diary of Wimpy Kid: Rodrick Rules is not horrible but it is a wholly average time waster full of embarrassing mums, bird poo and family bonding (not in that order). It verges on being dull and completely forgettable but what irks the most with Diary of Wimpy Kid 2 is not that it features all of the above, that's to be expected for a film that goes for the broad laughs and for whom its audience is likely to enjoy that kind of humour. What's frustrating is that these jokes and this type of storyline are not a good fit for a feature film. It feels better suited for a half hour Disney channel/XD show and not a feature film padded out with shallow, secondary storylines and characters that disappear and reappear when the film decides. As a result the film ambles to keep things interesting with zany but lifeless sequences that turn out exactly as you expect.
It's all a bit of a bore.
By the time Greg's brother Rodrick (Devon Bostick) attempts to make his life hell for the umpteenth time you realise that the film really has very little to offer. It's not repetitive in the extreme but there's little in the way of variety or interesting scenes. Director David Bowers relies heavily on Bostick's Rodrick (hey, it half-rhymes!) being the bane of Greg's life when it might (in fact it would) have been more interesting to explore Rodrick's relationships with his friends. None of his friends are particularly interesting and all seem to conform to the kind of stereotypes we see often in family films. The supporting characters either make little impression beyond being bland, tiresome stereotypes or are totally squandered, leaving you to wonder why they were ever included when they're in the film for two scenes.
It's not all bad with the brothers' bonding being semi-interesting but Diary of a Wimpy Kid 2 has so little to offer. It's not even unintentionally funny, it is an un-engaging, weak effort with a few laughs but for most of its runtime seems to enjoy its mediocrity. It would be fine if it was twenty minutes long, the problem is it's nearly a hundred and there's nothing remotely hilarious or interesting in the film to justify its length. Kids might like it but I have a feeling it'll make even less of an impression on them as it did on me.
About The Author