I Love You, Phillip Morris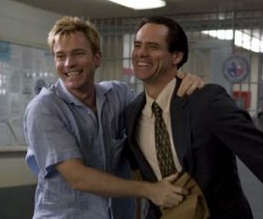 Jim Carrey and Ewan McGregor – two great actors that have been somewhat off the radar of late. We're glad to announced that in uniting in black comedy I Love You Phillip Morris they both show that they're far from out for the count. But, though it's McGregor who nabs the titular charcacter, Carrey is the one who steals the show.
Guess Who
[FLOWPLAYER=http://uk.clip-1.filmtrailer.com/2767_10578_a_4.flv,275,180]
Police officer Stephen Russell (Jim Carrey) is happily married, with a beautiful wife, Debbie (Leslie Mann), and young daughter. However, Stephen has a secret: he is gay and is engaging in anonymous sex to fuel his needs. When he can no longer keep the secret, Stephen comes out to his wife and moves to Florida with boyfriend Jimmy (Rodrigo Santoro). The cost of living fabulously is too high for Stephen and he breaks the law to finance his lavish tastes. The authorities eventually catch up with the swindler and sentence him to time in prison where he meets Phillip Morris (Ewan McGregor). The attraction is instant and Stephen schemes to become his lover's cellmate. When he finally gains parole, Stephen poses as a lawyer to get Phillip out of prison early but once they are united on the outside, the former con man struggles to stay on the straight and narrow.
You couldn't make it up
It's a tale too strange for fiction, and partly what makes this film such a joy is the fact that it's based on a true story. But this is far from the only thing to enjoy in this slick comedy. We're first introduced to our narrator Stephen as a weeping mess who berates his very existence. Ouch, we think, is this Carrey "doing emotional"? But we soon discover that this tricky character is trying to fool us as much as everyone else with his alter-egos, play-acting and great gestures. There's a whole lot more to this man than means the eye, and we soon discover that we shouldn't trust so easily.
One Man Show?
Carrey really shines in this role, bringing both the slap-stick genius that made him famous in such films as The Mask and Ace Ventura, as well a more subtle, nuanced performance such as that of The Truman Show and Eternal Sunshine Of The Spotless Mind. Ewan makes a sweet and innocent side-kick, but this is Carrey's show and they both know it. Overall, it's a criminal caper that makes Catch Me If You Can look a little predictable, and any potentially sensitive material is handled with grace and charm, as well as a large helping of dark comedy. A clever, witty and genuinely touching movie, and a huge breath of fresh air. Phillip Morris, we love you too.
About The Author