Jack Goes Boating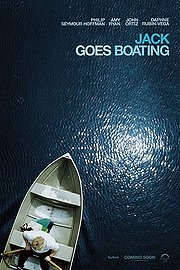 Jack Goes Boating fall into the modern habit of believing the words 'quirky' and 'realistic' are interchangeable, if not completely synonymous. The film comes courtesy of the same producers as Little Miss Sunshine, so it's immediately obvious the brand of adorably bittersweet indie comedy they're going for. Unfortunately the dialogue seems an ill fit for the cast and it feels like a rather dark drama has been ham-handedly forced through an eccentricity machine.
So we have Jack (Hoffman), right? Now, Jack's a quiet, awkward chap who works as a limo driver and has never had a real relationship, despite pushing middle age. His only real friends are Clyde and Lucy (Ortiz and Rubin-Vega), whose own relationship is clearly heading towards a rather messy end. Nonetheless, they decide to set Jack up with Connie (Ryan), who is, by way of contrast, awkward and quiet. They hit it off, however, but because he's not good at relationships, Jack accidentally agrees to go boating (he can't swim!) and cook her a meal (he can't cook!). So he has to learn both these things!
Now, in any other comedy this would be where he attempts both these things with hilarious consequences. Jack Goes Boating, however, is an indie comedy, which means the scenes are just odd (just like real life is totally odd, right?), and it is assumed that odd automatically equals endearing. At one point, while Jack is taking swimming lessons from Clyde, he notices someone else teaching his friend how to swim in exactly the same way! And the friend has no legs! I know, right? Maybe there's some deep metaphor for Jack's own inabilities being overcome, but fundamentally it seems like the film's just being a bit weird because that's what it think indie films are meant to do.
Which brings us to the dialogue. There's all too often an odd sense that it somehow doesn't fit the characters speaking it. The four central personalities are all rendered well, and with plenty of depth, and yet often, for no reason, they'll spout something bizarre to placate Mikalcera, God of Indie Comedies. For instance, in what could be quite a touching scene, Jack and Connie are in bed together for the first time, and she's admitting that she had previously had a fantasy about Jack, where they made love. Oh and in her fantasy they were in "super-space". What? Why? Is Connie into science fiction at all? Is she just an errant daydreamer? WHY IS THIS SPACE SUPER? At no point in the film are any of these points addressed, it's just one more 'idiosyncratic' line tossed off for the sake of it.
Not to mention the fundamental lack of chemistry between Hoffman and Ryan, which means that when they're sitting there awkwardly getting to like each other, it just seems like we're watching two very uncomfortable people sitting together. There's no spark, which makes the odd 'heartfelt' line seem alarmingly out of place. If anything, it ends up making the whole thing seem a little bit creepy. Like you're watching people having their skin worn by the Quirk Fairy.
This is the same for all the characters, there are so many unnatural lines, not to mention all the pointless scenes that add nothing to anything. They only seem to be there because the movie can't distinguish between engaging insights into a someone's life and trivial bullshit. It's not a bad movie, exactly, but it clearly wants to be like the reggae version of "By the Rivers of Babylon" it keeps playing – a positive, uplifting tune with sad lyrics. Unfortunately, despite flashes of good writing and some potentially strong performances, it just ends up feeling discordant.
About The Author