Love and Other Drugs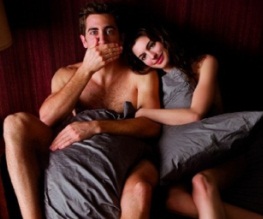 Love and Other Drugs is the story of Maggie Murdoch and Jamie Randall, two very different people that share one thing in common, a fear of commitment. Set in 1996 at the start of the Viagra boom, Randall (played by Jake Gyllenhaal) has just landed a job as a pharmaceutical salesman. A lifetime of underachieving spurring him on to succeed, he uses his flair with the ladies and natural charisma to help him pedal his drugs around medical centres and hospitals. It is in one of these hospitals, whilst shadowing a doctor (Hank Azaria) under the guise of medical intern, that he meets Maggie (Anne Hathaway), a free spirited artist suffering with an early onset of Parkinson's disease. Fascinated by her abrupt manner and liberal attitudes towards sex and relationships, he pursues her and they embark upon a turbulent and intense affair.
At first the relationship is strictly about sex, which seems to suit both Maggie and Randall, but as time goes on he begins to care more and more for her and becomes increasingly hurt by her frequent brush-offs. Eventually Jamie's charm and persistence pay off and the couple get together, but as Maggie's condition worsens, the holes starts to show in the relationship and Jamie starts to question whether he'll be able to handle the inevitable responsibility involved with loving someone with a terminal illness.
Anne Hathaway really comes into her own in this film. I didn't relish the prospect of yet another prim and proper performance reminiscent of previous roles that I've seen her cast in, but here she shows us that she can do witty, dry and sexy very convincingly indeed. The struggle of a young woman coming to terms with Parkinson's is brilliantly portrayed and requires the audience to invest more emotionally than a bog-standard romantic comedy drama would. Jake Gyllenhaal also demonstrates a great knack for comedy and Love and Other Drugs is a refreshing deviation away from the more serious films (Donnie Darko, Brokeback Mountain) that have defined his career thus far. With a far more polished appearance than usual, and completely disarming in the role of Jamie, Gyllenhaal proves beyond all doubt that he can do play the more conventional Hollywood leading man just as well as any of his contemporaries.
Essentially a rom com, you should obviously expect lots of corny lines and overblown declarations of love throughout, but Love and Other Drugs is definitely a film that offers a little bit more in terms of substance, humour and plot. With some genuinely laugh out loud scenes, especially between Jamie and his indigestion-tablet-scoffing pharmaceutical sales mentor Bruce (played brilliantly by Oliver Platt), this film works hard on all fronts. Jamie's brother Josh (played by Josh Gadd) provides comic relief throughout, in a style reminiscent of the mighty Jack Black. Added to the romance and humour are some pretty hot scenes between Maggie and Jamie that manage to keep the film a little more edgy and grown-up than it would otherwise have been, with both the leads looking absolutely smokin'!
I was surprised at how much I enjoyed Love and Other Drugs. It was a bit of a weepy at points and a little clichéd at others, but offered enough in terms of laughs and plot that it didn't get stuck in any one place for too long. Hathaway and Gyllenhaal shine in this movie, stepping out of their usual comfort zones to prove just how versatile they can really be.
About The Author