Monte Carlo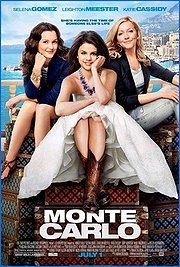 Word on the street is Nicole Kidman was initially in line to play the lead in Tom Bezucha's Monte Carlo; and, in fact, her waxen, artificially smooth features might be better suited to this cast than those of her chubby-cheeked replacement Selena Gomez. Indeed, when Gomez is onscreen with her costars, Leighton Meester and Katie Cassidy, Monte Carlo could pass for a Cinderella-esque tale of a young girl holidaying with two spinster aunts. And that would probably make for a more interesting film.
This piece of bland teeny-bopper fluff tells the story of Grace (Gomez), a Texan waitress who goes off to Paris to live the dream post-high school graduation. Along for the ride are Emma (Cassidy) and Grace's uptight stepsister Meg (Meester), who hate each other's guts and will – fingers crossed – learn to put aside their differences and be BFFs. Upon their arrival in Paris, however, the girls discover their dream tour is actually a disastrous tourist trap; their 'luxury' hotel is a fleapit with a panoramic view of a bathing French man in the building opposite (we know he's French because he's wearing a beret).
The girls end up stumbling into a swanky hotel where – by superb, ridiculous coincidence – Cordelia (Gomez again), an aristocratic English girl who is the spitting image of Grace, is staying. They overhear her planning to swan off to Majorca instead of attending a charity event in Monte Carlo, and – lo and behold – Grace ends up taking her place. Suitably tame chaos/hilarity ensues.
At its core, Monte Carlo is a fairly skilful exercise in wish fulfilment along the lines of Anne Hathaway's breakout film, The Princess Diaries. At one point, when the girls crack into Cordelia's suitcases and uncover endless supplies of makeup, shoes and dresses, a young girl a few rows ahead of me whispered a breathy, awestruck "Oh my god!". But the film doesn't push its concept very far, and the fun is somewhat limited to a couple of clunky set-pieces involving a band of very French policemen. Even when Grace is unexpectedly forced to participate in a polo match, she manages to canter elegantly around the field without causing any monocles to drop. On the contrary, she only further charms her French love interest Theo (played by the improbably named Pierre Boulanger). Elsewhere, Meg's dull storyline involves her falling for some Australian guy sadly stricken with the inability to button his shirts all the way to the top.
The more interesting parts of this story are concerned with Cassidy's Emma, a diner waitress who has never been out of Texas and is in a long-term relationship with Finn from Glee (Cory Monteith). Once in Monte Carlo, Emma is wooed by both the luxury lifestyle and some dishy French chap who whisks her off to dinner. Her illusions are promptly shattered when Frenchie is rude to the waitress, and – in one of the film's more thoughtful moments – Emma takes it upon herself to begin clearing the table, still decked out in an extravagant evening gown.
Monte Carlo does its best to rise above the usual level of stupidity associated with this sort of fare, and despite a few clangers along the way – "I'm not going to stand in the way of those kids", "I hate hospitals" – succeeds in being marginally more intelligent than expected. But ultimately, it lacks the charm of its 90s predecessors, such as Clueless and Ten Things I Hate About You, and becomes a tedious affair fairly swiftly. Gomez's character is virtually non-existent, defined mostly by the fact that she wears cowboy boots under her evening gown and once owned a snowglobe, and Catherine Tate's phoned-in performance as an English aunt feels pointless. It's largely inoffensive, and probably good fun if you're a girl aged between 9 and 13, but other than that Monte Carlo falls a little flat.
About The Author