Much Ado About Nothing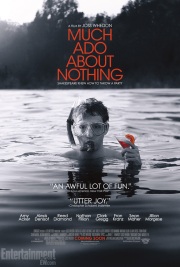 The original Shakespearean dialogue, the modern setting, the American accents on iambic pentameter; seeing Gatsby billboards looming over Much Ado About Nothing's posters isn't the only shadow that Baz Luhrmann's films cast over this new romantic comedy. But director Joss Whedon's adaptation has little else in common with Romeo + Juliet, making for a very enjoyable and funny version of one of Shakespeare's best loved comedies.
Whedon shot Much Ado in the narrow gap of two weeks between finishing filming Avengers Assemble and starting to edit it. The contrast between films could not be more marked, or more deliberate. Gone are the vibrant colours and huge set pieces which could draw Luhrmann comparisons. It was shot in monochrome, on 1% of the Avengers budget, in 12 days, entirely at Whedon's house in California.
To make it work, Whedon assembled a cast he knows and trusts. Any fan of his TV shows will cheer the arrival of actors like Comic Con audience would celebrate the first glimpse of a superhero trailer. It's hard to know whether to write that it was Tom Lenk or Andrew from Buffy who made me laugh every time he was on screen simply because he's made me laugh so much over the years. But really, it was probably his cop moustache.
The plot is simple and easy to follow, and fine for non-Shakespeare experts. There are two couples: one deeply in love, whom a group try to split up; and one who protest their hatred for each other too much, whom another group try to get together. There are big laughs in the attempts to convince the unwilling couple to get together, provided by the original text, strong physical comedy and some great performances.
It's all held together by the unwitting lovers, Benedick and Beatrice. Alexis Denisof (Wesley from Angel and Buffy) pushes the hamming up just far enough to be hilarious without quite being ridiculous. Amy Acker (Fred from Angel, Claire from Dollhouse (yeah, I meant to watch it too)) continues Whedon's run of strong and funny female characters. Her speech on how poorly women are treated in the renaissance society still has resonance in the modern setting, and helps to bridge the gap between eras. Their chemistry is great when insulting each other, and their awkward flirtations get laughs as they descend into lovestruck teenagers.
The script gets darker in the break-up plot, and the conspirators are played too cruel, rather than being playfully malicious, upsetting the tone. But when the film hits its darkest moments, an even greater contrast actually restores balance by introducing the biggest laughs in the form of an incompetent police force, especially with Lenk and Nathan Fillion (Firefly's Captain Reynolds) as its leader. Reynolds was powerful and commanding while keeping his comic moments, but here Fillion is all fool, and with sweeps of his arms he steals what remains of the show after Alexis Denisof took his share.
For all the recognisable actors from a geeky cannon, and the fun they clearly had making this film together, there are no moments of lovey-ness, nor any reference to anything Whedon related. The knowledge of their links is but a bonus, and the audience would never feel outside a clique, a triumph for a film which involves groups all plotting about each other. The modern setting never grates either, working so simply that guns for swords and messages coming through on phones is successful but never with a jarring knowing wink to draw attention to it. It's very easy to watch, as if it were simple to make, which shows what a craftsman Whedon is. Making a film in 12 days must be hurried and chaotic, but this feels calm and joyful. There's a simplicity that doesn't feel necessitated by the way it was made, and a subtlety which Luhrmann's Romeo + Juliet – for all its successes – never achieved.
About The Author