Paul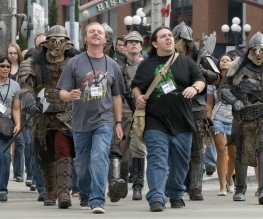 Graeme Willy (Pegg) and Clive Gollings (Frost) have big bro-mance. Theirs is the ultimate example of soul mates, one complimenting the other in every way; Graeme is the talented graphic illustrator to Clive's authorship of sci-fi works; both share a passion in all things extra-terrestrial. Their love for each other is only equalled by their love for comics, Star Wars and Star Trek. But they aren't… you know… gay, ok? We join the geeky duo on the cusp of their ultimate dude-date – a visit to the legendary San Diego Comic-Con (the Mecca of all things geeky) followed by a road trip that will take in all of the legendary UFO sites of the US. LOLs ahoy.
After an unfortunate run in with some hill-billy types at the Little Alieinn (yep, I raised an eyebrow as well) Graeme and Clive hit the road in their rented RV, hoping to put some distance between themselves and the 'queerbashers'. But soon, it's not the local vegetables that have their attention, as Graeme and Clive's wildest dreams come true – Paul, the pot smoking, wise-cracking, religion-disproving alien (voiced by Seth Rogan), is in need of a lift, as the useless Feds are in hot pursuit, trying to grab a slice of his hugely evolved brain. Now what part of that scenario doesn't sound super fun!?
[FLOWPLAYER=http://uk.image-1.filmtrailer.com/44901.jpg|http://uk.clip-1.filmtrailer.com/5707_18495_a_5.flv,275,180]
I love Simon Pegg. Spaced is nearly perfect, whilst Shaun of the Dead and Hot Fuzz are two of the funniest British comedies of this century. Pegg had a significant hand in the creative and writing processes of all these titles, so surely Paul should follow the pattern of brilliant banter and slick comic timing, just as surely as every evenly numbered Star Trek film is brilliant? No? Fans of Pegg and Frost, I urge you to look away now.
Before we lay on the disappointing criticism that Paul deserves, it must be stated that it isn't a bad film. It's funny, it nips along at a nice rate, it has a fairly decent cast, and geeks will feel right at home with the jokes. But: It's not THAT funny, the story isn't anywhere near as complete as Pegg's previous works, resulting in it flying along at an alarming rate, the cast is nowhere near as suited to the film as those of Shaun or Fuzz, and geeks will HATE the relentless barrage of sci-fi quotes.
If you've seen the trailer, then as is far too often the case, you've seen the funniest jokes that Paul has to offer. Whilst the performances of Pegg and Frost carry their standard hallmarks of brilliant timing and fun-filled-chemistry, providing some really nice moments of physical and banter-based humour, you can't help feeling that there isn't the same quality that's apparent in their previous works.
This is in part down to the writing of the screenplay, which only increases the blushes, as the pair wrote it. The carefully created characters that we fall in love with in Shaun and Fuzz, aren't on display in Paul; Graeme and Clive have a platonic love for each other, and whilst that creates a bit of tension between them when girls and aliens pop up, we aren't really that bothered. The rest of the characters bring a similarly disappointing amount of interest with them; none of the ensemble leap out at you, lacking the necessary charm and wit.
Seth Rogan does a good job of voicing Paul, and praise is due for the team who animated the little fella – at no point does he stand out as a CGI puppet who isn't really there for the actors to act with. But he doesn't save the film from being distinctly average. Nor do the pile of sci-fi in-jokes, which only serve to embarrass those of us who know the references that are being made. If you want to see how it should be done, watch Spaced, which manages to slip in an insane amount of fan-boy references without diminishing the story telling.
Paul won't kill off the careers of Pegg and Frost. Both are far too talented, and it's likely that the Tintin films will see this blot on their records forgotten about. You just hope that if the two ever bring one of their own projects to the table again, then it will be under the influential hand of Edgar Wright (co-writer and director of Shaun and Fuzz). For geek-cool-comedy, see his Scott Pilgrim adaptation. For disappointment, see Paul.
About The Author