Peep Show: Seasons 1-6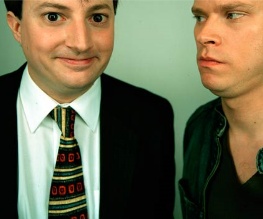 The comedy phenomenon of Peep Show first hit our screens back in 2003, and it's difficult to remember what filled our lives with such joy before it came along. Six series in and still as strong as ever, Peep Show truly is a programme that makes you proud to be British. Awkwardly, embarrassingly and pathetically British, but British all the same.
The show centres on the horribly ordinary lives of flatmates Mark Corrigan and Jeremy Usborne, played by David Mitchell and Robert Webb of That Mitchell and Webb Look. Mark is an insecure, self-hating finance director obsessed with historical novels, Question Time and finding 'The One', whilst Jeremy is – he's almost sure – an undiscovered musical genius who just wants to live fast and die young. Both resentful of and utterly dependent on one another, the show explores the lives of these two very typical losers.
Written by Jesse Armstrong and Sam Bain, the genius of Peep Show is in its ability to capture the very banal weirdness of everyday living, weirdness that we all thought (and almost hoped) would never be uncovered. By being able to hear the horrifying thoughts behind what these two characters say, the cringingly brilliant truth about the human condition is exposed for all to see. The two leads are surrounded by absolutely wonderful supporting cast including Olivia Coleman as Sophie, the (often questionable) love of Mark's life and Matt King as Jeremy's drugdealer/business associate Superhans, ensuring that the quality of content never drops for a second.
Series seven is currently in production (hurrah!) so now's the perfect time to catch up on the story so far. Every episode contains moments of genius, (Jeremy: "Mark, Cornflakes are just Frosties for wankers," Mark: "Yes well Frosties are just Cornflakes for people who can't face reality,") and it's impossible not to fall in love with the disgusting, dysfunctional but ultimately terrifyingly familiar characters of Mark and Jeremy. What more can we say? Buy it. Buy it now!
About The Author