Project X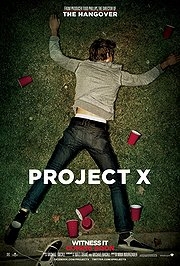 High-school, teeny, beer-bonging, feed-the-dog-drugs, jokes-about-'your mom'-or-fat-people films were fresh and appealing when the original American Pie came out in 1999. Since then, the genre has been mostly defined by perfectly decent, if unspectacular, films cashing in on the fact that teens enjoy watching other teens fucking themselves up. They're watchable enough, but it's been a hell of a long time since a film of this type turned up that was, to paraphrase Project X's party organiser Costa, 'a game changer.'
Project X is the debut feature from London-based film director Nima Nourizadeh, and it takes the high-school party film to uncharted heights of hedonism. Filmed in the ever-fashionable found-footage style and loosely based on the much-publicised house party of Corey Delaney, Project X is about a trio of ordinary high-school kids who decide to throw a party that will be remembered throughout the ages. The arrangements for the party are made by Costa (Oliver Cooper), the pluckiest and most experienced member of the bunch, who pulls out all stops to make sure that word of the spreads like wildfire. The result is quite possibly the most successful, hilarious and out-of-control house party ever seen on film.
There is little to speak of here in terms of narrative trajectory, as the handheld camera focuses more on capturing the sheer chaos of it all, rather people talking about 'feelings and stuff'. There are no pretences about what this film is about from the start. The boys' aim is simply to get as much pussy as possible and be forever remembered as hosting one hell of a party. As a result, the film does feel a little aimless, because do we really give a shit about these boys getting their fingers stinky? There is a loose romantic plot involving Tom (party host and birthday boy) and his childhood friend Kirby, but this is subsumed by the fact that we're essentially just watching one big party.

Thankfully, the film is filled with plenty of crude gags to keep us immersed in the chaos all the way throughout its modest running time. As 'weirdo' cameraman Dex captures all the goings-on in the house, we encounter such characters as a midget with a chip on his shoulder, an older guy looking to prove that he's still got some party left in him and two under-aged kids armed with batons and tasers serving as security. The house dog gets abused, a garden gnome filled with hundreds of ecstacy pills (stolen from a local drug dealer) gets smashed, and it all culminates in a truly apocalyptic finale.
Matt Drake and Michael Bacall's script is sharp, and has a slightly darker, edgier feel to it than your average high-school comedy. The best lines are given to feature film debutant Oliver Cooper, who plays the role of party liaison officer Costa with relish. His character is fast-witted and sleazy, at the same time as being loyal to his friends and a little bit nerdy. Found-footage films don't usually highlight individual performances, but Cooper certainly steals the show from his fairly ordinary co-stars, Mann (slightly neurotic, dull protagonist) and Jonathan Daniel-Brown (token fat kid).
The comedy is sharp and consistent, the pace is electric, and the climax is a spectacle which is both hilarious and horrifying in equal measure. Yet Project X lacks a sense of human interest. None of the main characters have any particular goals about who they want to fuck, and the only relevant dialogue in the film occurs between the three heroes. All that's driving these guys is some vague notion of 'being cool,' which amounts to them getting cheered by a group of pissed people who don't have any personal connection to them. In this respect, the film feels empty.
Ultimately, the whole thing feels completely pointless. But maybe that's the point. There's nothing to reflect on in Project X. To say it's a warning against reckless teenage behaviour is bullshit, because frankly the whole thing looks like so much fun that the aftermath seems irrelevant. So don't overthink it, because this film is a fast-paced, hilarious descent into absolute party chaos, and it's one hell of a trip.
About The Author