Robot Chicken Star Wars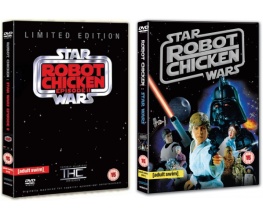 I've got a home-made joke about Star Wars and I think you'll like it. What do you get if you mix science fiction and a wank? A Han Solo. Hah! You might also – if you recall that the w-word is essentially meant to be a very nice thing and should henceforth be referred to by all ladies and gentlemen in the know as 'having a lovely' – get Robot Chicken Star Wars.
Now, I know we've been a little giddy to start with, and perhaps we don't know each other well enough to make the jokes with the smut in, so let's just stop with the silliness right there. Robot Chicken is an American stop motion animated television series created and exec-produced by Seth Green (Austin Powers) and Matthew Senreich. This sketch-based comedy series parodies pop culture conventions using the stop motion animation of toys, action figures, dolls, and claymation. From this factoid bonanza you will, if you don't already know, have gathered that Robot Chicken is something funny that you can watch on a DVD rather than a genetically unsound quisling struggling to free itself from a despairing existence of burnt metal and feathers.
Like the twisted dreams of Luke Skywalker fantasising over having one more knowing snog with Leia, Robot Chicken Star Wars is totally wrong. It uses stop-motion and funny little figures to take the mickey out of uber-beloved global (maybe even inter-global) franchise Star Wars in a way that adoring fans and very drunk people home from the pub on a friday night will appreciate with equal fervour.
Robot Chicken Star Wars is a double-DVD collection of short, sweet and patchy Star Wars sketches that range from meh to twisted knuckle-biting genius. If you didn't like one sketch, it doesn't matter – they're only a minute or so in length anyway, so you'll be whisked onto something hilarious in the next five seconds… four… three… two… one… and you're there!
Stand-out sketches include anything with bounty hunter Boba Fett in it (any deeper in the closet and he'd be in bloody Narnia), anything with Ewoks getting creamed and anything with the alpha male dynamic between Darth Vader / Emperor Palpatine. The best jokes are what-ifs, though. Enjoy the sweet pathos of the Galactic Empire's take-your-daughter-to-work day. Remember when Obi Wan Kenobi slices off evil Pomda's arm in the cantina? Find out what really happened.
The Robot Chicken Star Wars boxset is loaded with over 4 hours of special features, including: Chicken Nuggets, Animation Meeting, Behind the Scenes, Deleted Scenes, Trailers, Alternate Audio, Production Design, Time Lapse, Photo Gallery, Video Blog, Panel Presentations, Episode Commentary. Yes, all that stuff.
Lastly, you'll see the real deals lampoon themselves on Robot Chicken Star Wars Episode 2. Carrie Fisher (Princess Leia), Billy Dee Williams (Lando Calrissian) and Ahmed Best (Jar Jar Binks) voice themselves. Oh, hurrah!
Did you watch that YouTube trailer? Well done. It's like that. Plenty more where that came from.
About The Author