The Better Man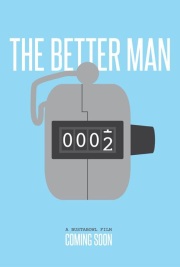 We review a lot of films. You've probably noticed. But this is the first time that we've reviewed a film which had BFFers starring in it, BFFers helping write it and BFFers doing all sorts of ancillary things we've forgotten about, like performing some of the score and drinking all the gin at the launch party. It's quite the experience, to be honest with you – Tash probably directs finely-wrought little noir numbers in between transforming the worlds of theatre, music and competitive bagel eating, but she's a law unto herself and apart from her this is completely new ground.
(This is probably the stage in this review, non-BFF-affiliated reader, at which the directors and writers and so on of The Better Man are starting to notice how shamelessly I'm trying to associate Best For Film with Bustabowl Productions and, by inference, their film. There's a reason I'm doing that, and the reason is this: The Better Man is brilliant.)
In sunny Bedford, intern/layabout/wannabe Sex God of the Midlands Aaron (Cameron Stuart) has his comfortably pointless day thrown right out of whack when he discovers that his oldest friend Paul (Duncan Vicat-Brown) has inexplicably decided to get engaged. In Wales. To a girl whose friends call her 'Kay-Tay'. Horrified at Paul's hastiness as well as his choice of ball and chain, Aaron and mutual friend Josh (David Sykes) are faced with the prospect of schlepping all the way to the least proper country in Europe for an engagement party which promises to be as boring as – there's not actually an appropriate metaphor for this, because 'engagement party in Wales' is the gold standard for boredom. It's like saying "a kilogram that weighs as much as…" – see what I mean?
ANYWAY, they have to do that. Aaron's only consolation (apart from the prospect of maybe getting to finger a bridesmaid) is that he'll get to be best man – the first worthwhile thing that's happened to him in months. After all, he's Paul's oldest friend, and he's a party animal – what more could anyone want?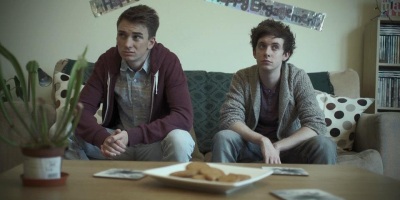 My major concerns ahead of seeing The Better Man were the standard indie-film jitters – will there be loads of shaky cam, will the script clunk about like a robot having an epileptic fit, will it feel a bit like Skins – but I was pleasantly surprised from the first scene. This film is nothing if not an ensemble piece, and its disparate mob of writers (Tom McInnes and Matthew Tindall with Caroline O'Donoghue and Richard Wallace) and directors (Josh Bennett and the aforementioned Tindall; he gets everywhere, they've had to put traps down) have made something really special from £3000 of crowdfunded budget and as many friends as they could talk into being extras. £3000, incidentally, is 0.15276994831792648% of the budget for Swinging with the Finkels, a film so bad I was tempted to buy the DVD just so I could smash it and cut my face with the shards. Well played, Bustabowl.
Despite its restricted funds, The Better Man ranges across the UK like a lost infant animal in a Christmas cartoon; and it's far less mawkish, although there's no film on earth that couldn't be improved by a sad goose in a snowstorm. The script is well paced and impressively tight, blending deadpan Inbetweeners-style (before they got crap) humour with genuine pathos, and it's generally well handled – particularly by the enviably sharp David Sykes, his beautiful and coolly compelling on-screen love interest Natalie Martins and our very own Duncan Vicat-Brown, whose consummate command over his face's every twitch makes his frequent close-ups a joy. Tindall and Bennett's joy at the prospect of shooting for a proper screen is readily apparent, and their grasp of cinema lives up to the challenge – two scenes in particular wouldn't be remotely out of place in a Coen brothers film, although when viewed as a whole The Better Man is something indisputably new. Even the fingering jokes are creative, which is quite an achievement when you think about what a linear activity fingering is.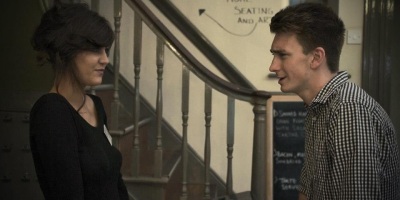 The Better Man doesn't currently have a distribution deal, although unconfirmed rumours suggest that it may make an appearance at Best For Film Presents… this autumn. In the meantime, you can explore the Bustabowl crew's previous work on YouTube (their portfolio includes a flick starring a wizard with a penchant for bum-banditry and a soon-to-be-released short about a cookery show gone awry) and pray for the day that this startlingly talented young team makes the jump to nationwide recognition.
About The Author