The Way Way Back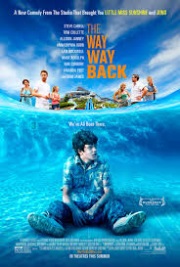 Despite the glut of coming-of-age films which have saturated our screens of late, The Way Way Back manages to stand out. With a smart, funny script, cracking performances across the board and the best teenage outcast since American Beauty, Nat Faxon and Jim Rash's directorial debut is a lovely way to round off the summer.
Duncan (Liam James) is 14 and he loves REO Speedwagon, wearing unflattering checked shirts and absolutely not talking to anyone, ever. Unfortunately, that doesn't sit too well with his mum's new boyfriend Trent (Steve Carell), who is taking Duncan, his mum Pam (Toni Collette) and Trent's unspeakably horrible daughter Steph (Zoe Levin) to his beach house in Cape Cod for the summer. "How would you rate yourself out of ten?", Trent asks on the way there. "I'd put you at a three. You don't go out, you don't make an effort – to me that's a three." Stuck between the twin poles of his overprotective, neurotic mother and Trent, who really is a bastard, Duncan resigns himself to a summer of wishing he was with his dad.
After a few days of being a spare wheel, however, Duncan finds a rather natty pink bicycle in the shed and goes exploring. What he finds will change his summer. Duncan pitches up at Water Wizz, a rickety theme park run by the anarchic Owen (Sam Rockwell), who takes Duncan under his wing, gives him a job and slowly begins to work on his confidence. Meanwhile, Pam barely notices her son's absence – she's having too much fun getting stoned in the dunes and ignoring Trent's increasingly suspicious behaviour. Trent's got it together, after all, and it'll do Duncan good to have a man in his life. But as the summer rolls on and Duncan starts to work out who he is, his Frankenfamily's continued stability is thrown into question.
I've got no idea why I'd never heard of Liam James before. The 17 year old, previously known for a few episodes of The Killing and pretty much nothing else, effortlessly carries The Way Way Back on his scrawny shoulders, handling his character's gradual transformation from stuttering introvert to bronzed and confident god of the waterslides with ease. We can expect great things from him. It's also lovely to see Steve Carell in a less overtly comic role, making use of his considerable talent for villainy as he strides around in horrible shorts and makes everybody subtly miserable. Sam Rockwell also shines as Owen, whose jovial exterior predictably hides a little heartbreak – the man can virtually save a crap film on his own, and with a capable cast around him he breathes life and laughter into Water Wizz.
I was less enamoured of Toni Collette, who seems to be retreading familiar ground – it's eleven years since she last played the fretting mother of an awkward teenage boy, and her performance here doesn't touch her role as Fiona in About a Boy. Come to think of it, actually, the final drive out of Cape Cod was just the 'Goodbye Porpoise Spit' scene from Muriel's Wedding – can't she do anything new? Anyway, Allison Janney (American Beauty again) and AnnaSophia Robb (The Carrie Diaries) fly the flag for intelligent, funny female characters as Trent's hard-drinking neighbour Betty and her spunky, bit-more-than-just-an-obligatory-love-interest daughter Susanna. Thank heavens for them, and for Susanna's little brother Peter (River Alexander), an excruciatingly funny, streetwise preteen whose occasional appearances are well worth waiting for.
The cast is great, the setting is evocative, the music's gorgeous, but the actors – and the audience – are luckiest in having such a great script on hand. First-time writer-directors Faxon and Rash both accepted and refreshed the coming-of-age formula, with a predictable but pleasing plot and a light, relaxed tone that encompasses the film's more comic moments whilst making sure its dramatic aspects don't feel unwelcome. Some viewers might chafe at the slow start and leisurely pacing, or the fact that Maya Rudolph is still getting work; but as the last flecks of summer seep out of the air, this languid, charming film strikes me as the perfect way to wind down, dig out a jumper and ease into autumn.
About The Author