Biutiful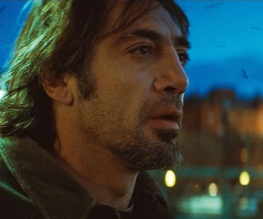 Uxbal's life is immersed in the sin of underground Barcelona, but Uxbal isn't your average sinner. He's a man with no pretences of being a shining light of purity to those around him, nor does he attempt to live his life as an example to others. Rather, Uxbal has carved out an existence which allows him to look out for himself, to gain the most from every opportunity that the 'universe' throws at him, but in a manner that allows him to care for his fellow man. And boy does Uxbal care.
[FLOWPLAYER=http://www.onlinemovieshut.com/wp-content/uploads/2011/01/biutiful-movie.jpg|http://uk.clip-1.filmtrailer.com/5476_17092_a_4.flv,275,180]
Uxbal's backdoor businesses introduce us to the lives of a group of Senegalese immigrant street sellers, who are in turn selling on the forged goods of a Chinese sweat shot. Uxbal acts as a faithful 'representative' for both groups, working hard to bribe the police to let the sellers keep on selling, and forcing the sweat shop owners to look for better work for their fellow countrymen – taking a cut of the profits to make his living. He also, as it happens, has the ability to talk to the dead, moonlighting as a medium for troubled spirits. Layers, you see. Lots and lots of layers.
The prevalent layer of Uxbal's story concerns his tattered family life, and it's these moments that steal the show. Marambra (Maricel Álvarez) plays a horrifyingly unstable mother, caught between her desires to live the life of a 'whore' (her words) and be a loving mother and wife to Uxbal. Ana (Hanaa Bouchaib) and Mateo (Guillermo Estrella) are the angelic children of Uxbal and Marambra's incompatible union, kept honest namely thanks to their father's benevolent control. Guillermo Estrella is beyond doubt the greatest young actor I've ever seen – he's only 6, but his performance will make you squirm with jealousy that someone that young can possess that much talent.
Biutiful, whilst it might sound utterly lacking in originality for me to say it, is beautiful; whilst not humble, it's a flippin' accurate title, like naming Megan Fox, 'Powerfully Sexy'. The way in which shots of Barcelona's backstreets and snippets of Spanish underground culture sit just under the service of the main story only adds to that feeling that Biutiful is covering a huge amount of subject matter.

The only aspect in which Biutiful fails to be the most beautiful thing you've ever seen, is its staggering length. Whilst the first two hours of the film glide by without missing a beat, the final half hour does seem to drag as all the lines of the story are tied off.
But please, please don't let that put you off. Javier Bardem gives a performance that deserves your attention, and Alejandro González Iñárritu (director and writer) delivers a story that will grip you, and leave you feeling like your horizons have had a good stretching.
About The Author