Bullhead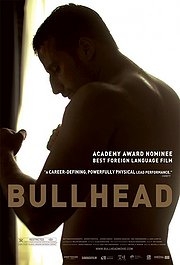 Most people will remember Belgian actor Matthias Schoenaerts from Rust and Bone, where he played a sexually flippant boxer. Now he's back playing a tough guy in Bullhead, the directorial debut from Michael R. Roskam, and it's his best role yet.
Limburgian cattle farmer Jacky (Schoenaerts) has been injecting testosterone for years, ever since he had his testicles beaten to near-fatal death as a boy in a violent attack. Now a beefy young man, he regularly experiments with the steroids prescribed to his cattle (and bought on the black market) to bulk up. But gradually it is revealed that this is a film of two halves. In one, Jacky grows increasingly out of control and seeks vengeance on the man who beat him as a boy. He stalks the man's sister (his childhood crush, Lucia) and becomes violent. In the other, the film turns into a Guy Ritchie-eque crime comedy, where the mafia have been trading in the hormone-rich drugs and are found out by the police when a car turns up with a bullet hole in it. The police are investigating the death of an undercover drug-enforcement agent and they are looking to pin it on one man, but there's no one they can connect to the car. That is, until another dead body turns up next to a nightclub and questions turn to Jacky, the only one at the scene of the crime.
There's a darkness to Bullhead that shadows every scene, even in the daylight, and part of that is down to the stylish cinematography by Nicolas Karakatsanis. But whether it is Schoenaerts' bulging frame; gradually morphing into a beast with every handful of pills, or the flashbacks to his tragic childhood; there is a foreboding sense of doom and gloom. The acting is superb from all, particularly from Schoenaerts, whose bodily transformation is comparable to Tom Hardy in Bronson or Robert De Niro in Raging Bull, making a tremendous physical performance. His brooding hulk, harboring a bovine look in his eyes shows the vulnerability in a man who has suffered extreme emotional pain, and the expectation of maleness among farmers.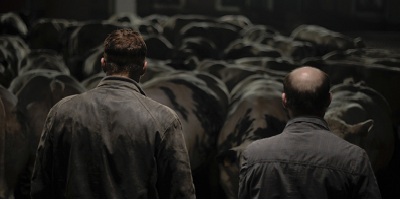 At its worst, scenes going back and forth between the mafia and the police (as well as between characters speaking French and Limburgish) are undeniably confusing; there's a lot going on here and the viewer is forced to keep up with nameless bottles of pills and gang members. In some cases, sub-plots involving a closet gay police informant are in danger of getting lost along the way. The farcical nature of some of the mafia scenes are a grating change of tone, and don't sit well. An argument could too be made about the unbelievability of the whole thing- wouldn't his parents stop him taking so much medicine? They did live with him after all. But anyhow, Schoenaerts' hypnotic performance can't be contested. He is modern Belgian cinema's answer to Marlon Brando.
It is brutal, bloody, sweaty and hypermasculine. There are only a number of powerful scenes in Bullhead (Jacky's childhood trauma being one in particular) but they hang heavy over the entire film making their impact continually felt until the dark conclusion. All in all, this is an incredibly compelling watch.
About The Author