Corman's World: Exploits Of A Hollywood Rebel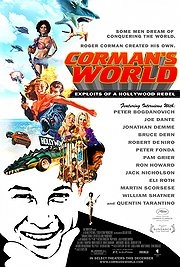 Of all the people who have undeservedly slipped under the radar of movers and shakers in Hollywood history, Roger Corman is definitely one of the most important. Having started making B-movies in the 1950s, and never straying too far from his kitsch, schlocky roots, Corman has directed over 200 films in his life, making him one of Hollywood's most prolific directors. Even more significantly, he financed early films by the likes of Martin Scorsese, Ron Howard and Joe Dante, while providing early screen roles for future legends like Jack Nicholson and Robert De Niro. His eye for talent has been integral to shaping the current Hollywood landscape, and yet he has been largely ignored by it.

Corman's World shines some deserved light on the career of this enigmatic figure. Combining interviews with footage of some of Corman's earliest and most shit-tastic films, this documentary from first-time director Alex Stapleton gives an enlightening insight into a fascinating character. Unlike what you'd expect from the man who single-handedly brought exploitation cinema to the masses, Corman himself comes across as the nicest, most humble guy in the world; a kind of quiet uncle figure who only opens his mouth to say something really profound.
With Corman's understated character, it's hardly surprising that his film-making exploits (see the pun?) have been largely overlooked by the Hollywood elite. Despite this, the interview roster for the documentary is impressive, with a fat, old, but dynamic-as-ever Jack Nicholson speaking out the most about the writer-director-producer. Further figures to take their hats off to Corman include current exploitation kings Eli Roth and Quentin Tarantino, emphasising his unsung influence on cinema up to the present day.
Seeing footage of some of Corman's earlier films such as The Fast And The Furious and The Little Shop Of Horrors gives a great idea of the kind of cinema that Corman helped spawn. A strong believer that cinema shouldn't be a big-money blockbuster business, his films spearheaded the idea that films could be 'so bad that they're good.' However, the documentary goes beyond restricting Corman to his popular image as the 'King of Schlock', exploring his foray into daring social commentary films when he made The Intruder, starring a young William Shatner.
While Stapleton's insight into Corman's underground influence on Hollywood is fascinating, he fails to capture the unique historical context in which he rose to prominence. Corman was one of the first directors to take advantage of the more lenient Hollywood ratings system, and his films paved the way for the American New Wave. Directors such as Robert Altman, Dennis Hopper and Peter Bogdanovich built on Corman's The Trip and Wild Angels to capture the sixties counterculture in their films and make independent cinema a force to be reckoned with. These facts are hardly touched on, and would certainly have done further justice to Corman's legacy.
The level of tribute shown to Corman here is touching, and when the film reaches the point of him receiving an Honorary Academy Award in 2009, we really feel like he fucking well deserved it. Corman's personal life was fairly low-key, and his career trajectory lacked the highs and lows of other key figures of the sixties. As such, Corman's World isn't the most riveting documentary. Nevertheless, it pays the warmest respects to a man who's helped shape Hollywood as most of us know it. For anyone with an interest in the formation of contemporary American cinema, this is a priceless point of reference.
About The Author