Electrick Children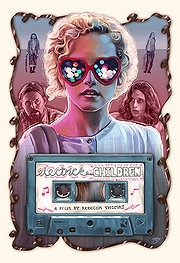 It's hard to ignore the gorgeous poster art for Electrick Children. Newcomer Rebecca Thomas is lucky to have been rewarded with such striking advertisement for her debut feature: a bubble perm blonde in heart shaped glasses; quirky hand drawn titles; oil painting effects. Everybody knows not to judge a book by its cover – but what comes of applying this forbidden logic to a movie and its poster? For Electrick Children, it doesn't get you too far off the bat. Like the delicious eye candy factor of its artwork, most of the film's pleasure can be found in the way it looks.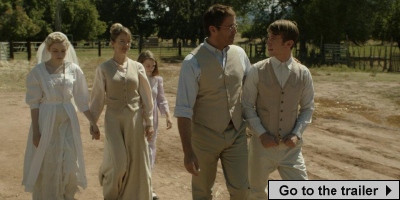 The story centres around Rachel (Julia Garner), a victim of an Amish Paradise on the outskirts of Las Vegas, living a life denied of electricity, music and – of course – sex before marriage (a world based on the director's own Mormon upbringing). She discovers a music tape containing a rock band's interpretation of Blondie's Hanging on the Telephone, which blows her mind and by an 'act of God' gets her knocked up. Ironically enough given their own religious predilections, her parents (Billy Zane, Cynthia Watros) vehemently reject Rachel's immaculate conception excuse. What follows is her awakening as she escapes to Las Vegas to hunt down the man on the tape, who she believes to be the father of her unborn child.
Tarring Electrick Children with the 'style over substance' brush would be simplistic; the subject matter is intriguing, and things do happen. But what seems a fun idea in theory is spread a little thin in practice. The third act, in particular, never reaches the pinnacle you would expect from its ingredients: the runaway, the shotgun wedding, the rocker boyfriend and a Mustang – but it falls on a moot point. Seeing his daughter abandon family values and elope should incite some passion in any father, but Billy Zane is denied the opportunity to express some well-deserved rage that's been at the surface of his character throughout the entire film. Instead, the characters are awash with passivity. You spend the entirety of the film anticipating a climax that is never quite reached.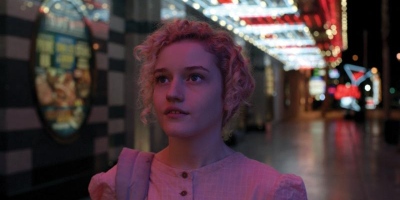 The depth of story is neglected in favour of its pure aesthetics: Thomas' camera purrs in and out of beautiful, hazy shots of Utah's desert wasteland and the sparkle of Vegas, and makes for gorgeous artistry. It's a fascinating contrast, that two worlds so inconceivably different can coexist as neighbours, and 'the City of Sin' looks magnificent under her gaze… but the impression that Thomas is more intent on cementing her film as iconic in the minds of hipsters than fantastic in the minds of film lovers is, sadly, inescapable.
That said, Electrick Children is never dull. You will certainly be entertained for the entirety of its 96 minutes – though this enjoyment may falter without the aid of the big screen's ability to do proper justice to exquisite cinematography. The bright lights of Vegas don't look so impressive on your laptop. The performances, too, are good. The 18yr old Julia Garner is likely to secure herself a spot on cinema's hotlist, having made her breakthrough last year with the brilliantly received Martha Marcy May Marlene, and starring in the upcoming, hotly anticipated The Perks of Being a Wallflower. Rory Culkin, too, continues to reaffirm his status as bona fide indie favourite, and Zane and Watros make the best with what's been given to them.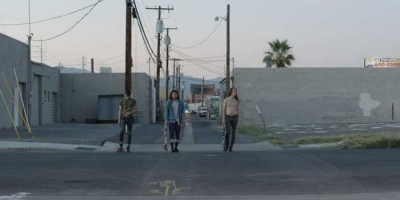 As far as debuts go, Thomas has certainly shown great potential – and even if it never really quite hits the spot, watching Electrick Children is certainly a gorgeous way to spend some time. Let's just hope her next feature will have a little more beef.
About The Author