Good Vibrations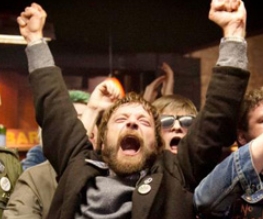 On first look I presumed Good Vibrations would be just another clichéd, 'uplifting' story about one man's determination to overcome adversity with an overly idealistic, sentimental message: that music can change the world. However, after watching it, I have no doubt that any of this is true – music can change the world, and then some. Set during The Troubles in 1970s Belfast, it tells the true story of Terri Hooley, a Reggae loving hippy who opened the Good Vibrations record shop on most bombed half mile in Europe, started a record label with the same name, discovered The Undertones and became the Godfather of Belfast Punk. Through the imaginative and intricate merging of classic biopic dramatisation, stock news footage, absurd dream sequences and just the right amount of fairytale imagining, Good Vibrations truly conveys the feel, the importance, of this iconic time.
Good Vibrations aptly begins with an image of a record turning – as it spins it sets the whole story in motion. Terry is a young boy in the early 60s, lying in his garden, dreaming of a Country singer in a cowboy hat. His voice over explains "My name's Terry, with a 'Y'" before some mean kids shoot him with a bow in arrow, causing him to lose his eye and humorously rename himself "Terri – with an 'I'". This sets in motion a speedy montage of 1970s news footage depicting explosions and street brawls that translate the chaos and horror of The Troubles. But The Troubles are just the backdrop for this story – it is music that truly drives this narrative. Cut to the late 1970s and Terri (Richard Dormer) bitterly describes the previously thriving Belfast music scene, which Dylan, The Rolling Stones and The Kinks had visited. Now he is a D.J in a bar that is empty except for Ruth (Jodie Whittaker), another hippy, who dances dreamily alone. To the background tones of the Shangri Las he explains to her that he once had many friends: Feminist friends, Socialist friends, Anarchist friends – now he just has Protestant friends and Catholic friends – and these aren't friends he wants. Terri and Ruth are kindred spirits and get married.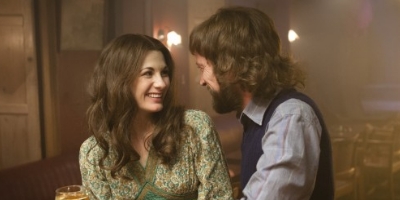 With increasingly encroaching violence and intimidation Terri remains a cheeky and cheerful hippy, never without his peace symbol and cannabis leaf badges. But he is shaken by the cultural disintegration around him and believes fully in the redemptive power of music. He is represented as a mixture of beautifully idealistic and insane – using his house as collateral to transform a derelict building into a record shop and bribing a bar full of angry young men not to kill him with a selection of his finest vinyl. We see Terri's desperation and frustration amalgamate until it is wondrously released at his first Punk gig, watching Rudi. The camera focuses on his elated, transfixed expression as he jumps up and down in slow motion, sweating and salivating, not sure whether to laugh or cry. This is a truly cathartic moment, and he has found his calling. He drunkenly exclaims that "People NEED to hear this!" and starts the Good Vibrations record label. This begins a succession of joyful moments which are testament to the expressive qualities and deep importance of Belfast punk music.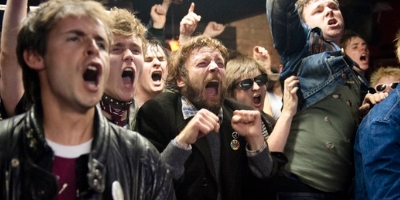 Directors Lisa Barros D'Sa and Glenn Leyburn's storytelling never misses a beat. They creatively inter-cut the central, more conventionally told narrative with fast successions of images of the wider world and more ridiculous sequences taken straight out of Terri's imagination – so that we understand that the personal and the political are continually intertwined. Dormer carries the film brilliantly with his interpretation, rather than impression, of Hooley and he has great support from Whittaker. The film avoids being too idealistic by portraying the difficult side to Hooley's idealism: his disregard for finances, difficulty with alcohol and the effect his dedication with punk had on his marriage. The soundtrack, which consists largely of songs released by the Good Vibrations label, is naturally a highlight.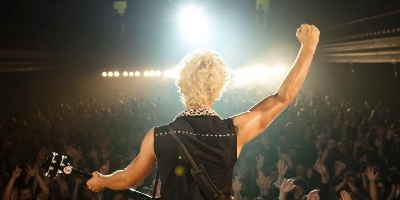 To ensure an accurate retelling, the filmmakers worked closely with Terri Hooley throughout the shoot. It is perhaps due to this that, more than any other music biopic I have seen, Good Vibrations manages to capture exactly why a musical movement was so right for a specific time and place. Amidst the fighting, bombing and intimidation, in the center of a city under strict para-militaristic rule, Belfast punk was a way to reclaim a lost culture, express anger and be bravely anti-establishment. Everyone defined themselves as either a Catholic or a Protestant, but being a punk overrode religion, if you were a punk, you were just a punk.
I cried twice during Good Vibrations, the first time was because of Hooley's reaction to the Rudi gig, and the second was in response to that iconic moment when John Peel plays Teenage Kicks on the radio TWICE IN A ROW. Seriously, watch Good Vibrations, and I defy you not to want to go home and do the same:
About The Author