Life, Above All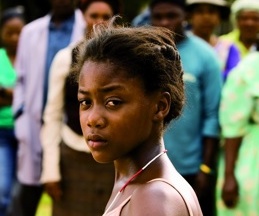 Life, Above All, which was South Africa's (unsuccessful) submission for Best Foreign Language Film at this year's Oscars, has been described as 'touching' 'powerful', 'handsomely produced', 'traditional', 'emotionally rich' and probably even more words which happen not to be on the front page of Google's results. I wouldn't quibble with any of these tasty and emotive adjectives, but I feel none of them can be truly accurate unless they are suffixed with 'and bloody miserable'. Enchantingly shot and superbly acted, Life, Above All blends ethereal themes with uncompromising reality to great success; just don't see it unless you've been having the best day imaginable, or you'll probably kill yourself.
Chanda (Manyaka) is a bright, personable thirteen year old girl who would like nothing better than to do well at school and keep things ticking over at home. However, from the second scene of Life, Above All, in which she chooses her baby sister's coffin ("The lining is satin, Miss! Sarah will look beautiful!"), it become apparent that things may not go that smoothly. Life seems to be conspiring against Chanda; her father is long dead, her new stepfather is a hopeless drunk whose regular disappearances are even more troubling than his fractious offspring, and her mother Lillian (Mvelase)'s inability to adjust to Sarah's death has segued into an increasingly concerning illness.
Lillian's landlord and neighbour Mrs Tafa (Harriet Manamela) seems to be doing her best to support the fragile family, but when Lillian is abruptly shipped off to her home village to convalesce Chanda suspects something is not as it should be. Torn between her concern for her mother and the duty of care which she owes to her half-siblings and her orphaned friend Esther, Chanda knows she must find a way to resolve her problems and silence the gossips whose muttered accusations draws ever closer in on her family.
The thing that most amazed me about Life, Above All was that it takes almost seventy minutes for someone to actually say "AIDS". The disease – or, more properly, fear of the disease – overshadows the entire film, but it is largely referred to through a pantomime of exquisitely awkward euphemisms; every time someone is less than manifestly in the pink, hard looks and deliberately vague comments start to fly thick and fast. Couched in the extraordinary luxury and safety of the developed West, it's difficult enough to understand the relative insouciance with which Chanda's neighbours greet the news that her baby sister has died of pneumonia; trying to get your head around living in a country where one in ten people have HIV is practically impossible, but the carefully cultivated 'nosy village where everyone's very discreetly in your business' air of the film is a superb way of contextualising the problem in an internationally comprehensible way.
Oliver Schmitz has had relatively little exposure to English-speaking markets, but this is something that deserves to change; his dreamy, generous direction, which gives pride of place to the extraordinarily harsh landscape in which Life, Above All is set and makes subtle use of traditional music as well as Christian hymns, is an unmitigated pleasure. Pretty shots, however, are nothing without compelling performances, and the stand-out here is first time actress Khomotso Manyaka, whose starring role as Chanda is a convincingly emotional and fractured portrait of a young girl whose life is essentially collapsing around her.
Although Manyaka is very much the film's lynchpin, she is ably supported by three very different but equally compelling performances from Mvelase, Manamela and Keaobaka Makanyane (another actress with no previous work whatsoever) as her troubled friend Esther. Worthwhile male roles are as absent from the cast list as they are from Chanda's life, but Manyaka and her character are equally capable at holding things together more or less on their own. Ably dealing with themes as complex and unwieldy as filial love, abandonment, alienation, superstition, abuse and the perils of falling down holes, Life, Above All is quite, quite brilliant.
About The Author