My Name Is Khan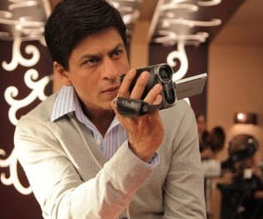 Fox paid a lot to secure the international rights to My Name Is Khan and while the ultimate message it delivers, of understanding, community and tolerance, is one that deserves to be heard, it seems unlikely that it will have far-reaching crossover appeal- particularly with the storm of controversy surrounding its reception in Mumbai.
Star Crossed Lovers
The story centres on Rizvan Khan (Shah Rukh Khan) has Asperger syndrome and is often presumed to be stupid because of his condition. In fact, Rizvan is highly intelligent – he just has difficulty processing simple human emotions. He ventures all the way from India to stay with his brother and sister-in-law in San Francisco, where he falls in love with the beautiful Mandira (Kajol). They decide to marry, despite protests from the two families, and Rizvan and Mandira start a small business together. In the aftermath of September 11, 2001, American attitudes towards Muslims change radically and Mandira and Rizvan are touched by tragedy, forcing them to split. Rizvan does not understand why he has been abandoned by his one true love, and he embarks on a momentous journey across America to win her back.
Shifting Weights
This is a tricky one, as though the film at times feels very light, it manages to deals well with a lot of difficult and potentially very heavy issues. Not only are the difficulties of mental disablitites addressed and explored, but the setting – that of September 11th – is one that cannot be approached lightly. But strong scripting and beautiful location shots make sure that the hot-topics are not the only thing to notice about this story, and Shah Rukh Khan makes such a likeable lead that you cannot help but root for him. His quest lands him in government detention and sees him helping out a hurricane-ravaged Georgia town, while the post 9-11 climate sees anyone even vaguely resembling a Muslim under verbal and often physical attack. Although it's not easy stuff to deal with, the likability of the cast and the stunning landscapes mean that the film is a joy to watch, and as an audience we never feel bogged down by the ultimate 'messages' the makers are trying to deliver.
What did you think of My Name Is Khan? Let Us Know Below!
About The Author