On Tour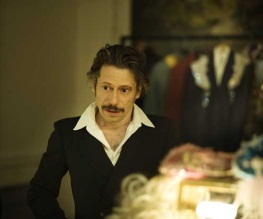 On Tour charts the ups and downs of a burlesque troupe and their French tour manager Joachim Zand, as they perform in the different port towns of France. Joachim, a former television producer, has returned home from America to face hostility from old colleagues, former business contacts and the children he left behind. As the tour progresses Joachim finds himself unable to secure the Paris venue he has promised the troupe and is forced to face old demons as a result.
[FLOWPLAYER=http://uk.image-1.filmtrailer.com/47464.jpg|http://uk.clip-1.filmtrailer.com/4999_17230_a_4.flv,275,180]
This (occasionally) foreign language film is shot and acted in a style very similar to a documentary, and both English and French are spoken, depending on the nationality of the characters conversing. Much of the time the film is in English, but the transition to French from time to time adds a lovely sense of realism to the interactions between the different characters and helps emphasise cultural differences through language and tone.
Joachim, a washed up television producer, is not an instantly likeable character. Cigarette constantly in hand, and always sporting a suit, he has an almost mafioso air about him. Quick tempered, bossy, insulting and sly, it would seem impossible to like him, and yet inexplicably we do. The occasional vulnerability we are allowed to see in him, the beautiful way in which he (at times) expresses himself, and the guilt he so evidently tries to supress regarding his abandonment of his two children, all made for a very real and human character that provoked an empathy that warms him to us.
Mimi Le Meaux (Miranda Colclasure), Dirty Martini, Kitten on the Keys, Julie Atlas Muz and Evie Lovelle make up the burlesque troupe, along with their roadie/male burlesque performer, Roky Roulette. We see some absolutely brilliant stage spectacles from these characters; beautifully shot, sparkling showstoppers reminiscent of Moulin Rouge (though there are a couple of acts in there that might make you cringe a tiny bit!). The friendships, honesty and humour between the women is really refreshing to see. Frank unabashed sexual discussions and absolute self-confidence are rare things to see represented realistically in many films, and here it's been done beautifully.
Mimi Le Meaux is the focal character amongst the women. Colclasure is brilliant in the role, like a sort of lost modern day Munroe, permanently forlorn and seeking thrills to distract herself from a mysterious inner torment. The touring theme and ever-changing backdrop of cheap hotels adds to the loneliness we feel for Mimi and Joachim, and there is a sort of mutual understanding between them that is quite touching.
On Tour doesn't so much tell a story as provide a snapshot into the lives of a rather eclectic group of people. Though a small history surfaces regarding Joachim's past, it's the relationships, realism and visually stunning show-scenes (Roky Roulette and Julie Atlas Muz in particular!) that make this film worth seeing. A beautiful, poignant little postcard from France.
About The Author