Outside The Law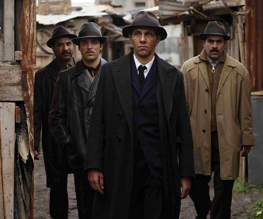 The film opens on a poverty-stricken agricultural family in Algeria – they are kicked off their dusty turf by the authorities and vow one day to return. Cue angry brothers out to avenge the crime against their father and family. Shoot forward to 1945, the war is won (against Hitler, not France – that would make it a very short film) and in a peaceful protest demanding equal rights for Algerians, one (stupide) French police officer shoots an Algerian youth and all hell breaks loose. The family is torn apart. Messaoud (Roschdy Zem) the eldest brother is sent to fight with the French army in the war in Indochina. Abdelkader (Sami Bouajila) is imprisoned in Paris for his part in the protests. And Saïd (Jamel Debbouze) is left to pick up the pieces as the death of his father and sisters leave him alone with his mother – he resolves to go to France to reunite them both with his brothers.
Parisian-born Algerian film maker Rachid Bouchareb is the French equivalent of Ken Loach – fighting for political and social injustices through film and making the ever unheard voices of victims heard. Bouchareb works with a well-established team of actors – Sami Bouajila, Jamel Debbouze and Roschdy Zem have all worked with this writer-director in the past and this film is clearly written with them in mind. As the three brothers, the actors put in magnificent performances; Messaoud is the emotionally-damaged hardnut (complete with scary eye scar), Bouajila's Abdelkader is the intelligent radical, even more the extremist since his stint in prison and Debbouze as Saïd is perhaps the most exciting to watch of all. The Algerian equivalent of a Jack Russell, his snappy, frustrated and often vicious character is more selfish in his approach to life – preferring the cash-laiden career of pimping and boxing in the underworld of the Parisian club scene rather than taking up arms in the Algerian uprising.
However, despite fine acting and fine characterisation, the brothers' relationship jars slightly. The director admits that each character is based on true personal accounts from the resistance movement, so as individual forces they are convincing. However, their relationship with each other is not so. They spend so much time apart and in so much disagreement that the 'tragedy' bit of the movie just doesn't get the tear ducts working. Call me old-fashioned but I'm after Romeo and Juliet heartbreak here. Bouchareb himself said 'My film isn't a documentary. I make movies.' Well, although he may be technically correct, his priority seems to have been political and historical accuracy and stuffing in all the details rather than the real heart of the story that the movie deserves.
That said, many of us like a good resistance film – dirty, grubby, fingers-mucky fighting against some bad-ass authority people where the oppressed are eventually freed always makes for an exciting watch. And no doubt Bouchareb does the Algerian fight justice with this movie – there were angry protests against its apparently 'anti-French' feel (despite most people having not even seen it) at its screening during the 2010 Cannes Film Festival. He obviously hit a political nerve, but sadly it falls flat of the passion that would make this movie great.
About The Author