Philomena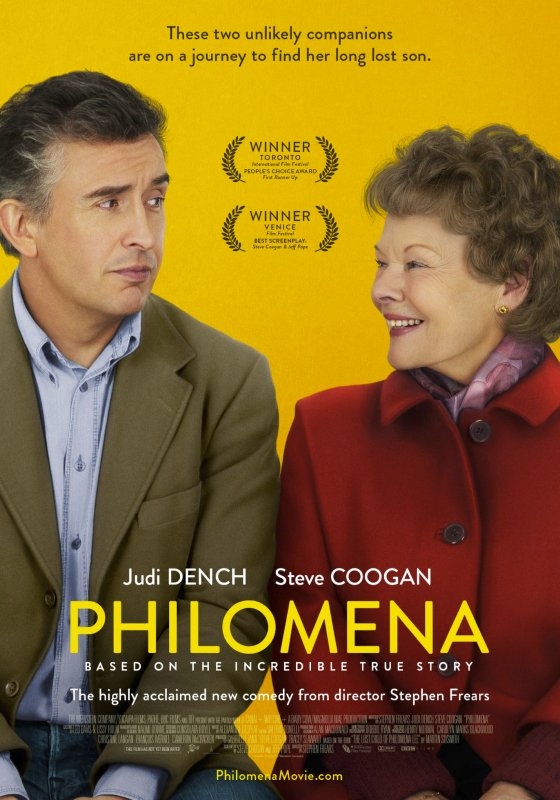 Steven's review comes, as ever, hot off the presses of his marvellous website Popcornaddiction.com. Make it your next stop.
Having lost his job as an advisor to the Labour government, journalist Martin Sixsmith (Steve Coogan) is looking to write a book on Russian history. Instead, he finds himself embroiled in the extraordinary story of Philomena Lee (Dame Judi Dench), a woman who — some 50 years earlier, as a resident of Roscrea convent in Ireland — had her son taken away from her. Although initially reluctant to take on a "human interest" story, he finds an interested editor (Michelle Fairley) and agrees to meet with Lee at the behest of her daughter. The nuns at Roscea are of little help, but Martin finds evidence that her son may have been adopted by an American couple. On the magazine's dollar, they set off for the US.
Based on the real-life Sixsmith's 2009 book, The Lost Child of Philomena Lee, Stephen Frear's film was adapted for the screen by Steve Coogan and Jeff Pope. Championed particularly by Coogan, the film is the latest in a line of projects for the actor set to showcase his talents and prove to audiences that he is more than just Alan Partridge's alter-ego. Philomena certainly does this; it's a surprisingly mature movie that deals confidently with topics such as forgiveness, faith and organised religion in a manner which is always measured, good-humoured and never patronising.
But just because the film doesn't take sides in the dialogue between atheism and Catholicism doesn't mean that Sixsmith doesn't either, and Coogan is on the giving — and receiving — end of some beautiful barbs aimed at Philomena's apparently blind faith. Dench's Lee is old, uneducated and ardent, and could have easily been dismissed in a script looking to be sharp and intelligent, but the film paints her in a warm and utterly sympathetic light that means just because you don't always agree with her, doesn't mean you don't care for her plight. In perhaps the film's most moving exchange, she points out that it isn't always easy to forgive, either.
Although undoubtedly dealing with a serious subject — it is outrageous that this happened at all, let alone on the scale shown here — the film finds the time to be incredibly funny, too. Sixsmith's determination to pen a Russian history book that literally nobody wants to read is funnier than any gag from Alan Partridge: Alpha Papa, while Dench mines depths of hilarity largely unseen in her work, and particularly in the case of James Bond's M. The supporting cast are just as impressive, with Game of Thrones' Catelyn Stark cropping up as a magazine editor, Sophie Kennedy Clark as Young Philomena and Charles Edwards as someone who knew Philomena's son.
Philomena is an absolute delight, and one that is as entertaining as it is thought-provoking. Accomplished turns from Coogan and Dench really make you feel for the main characters, while Freer's goes some way towards atoning for the unprecedented disaster that was last year's Lay The Favorite.
About The Author