Rush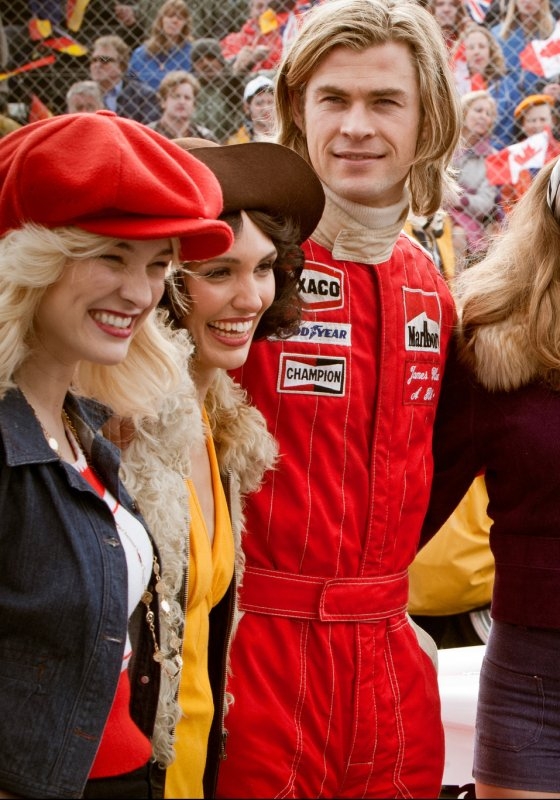 Rush is a solid, acid-coloured and tense feud flick that ticks the entertainment box with enough substance for film aficionados who will walk in saying things like "I adore Hans Zimmer's work" (he provides original songs for the movie). While it doesn't make any leaps and bounds in the biopic stakes – it's no Ray, for example – it is up there with the best of director Ron Howard's work.
Howard's latest depicts the on (and off) track rivalry between racing car drivers James Hunt (Chris Hemsworth) and Niki Lauda (Daniel Brühl) in the 70s as they battle each other and their own personal demons to win Formula One.
Perhaps with the exception of too many "worried wife" shots of Hunt and Lauda's other halves (Olivia Wilde, complete with a spot-on English accent, Alexandra Maria Lara) during races, nothing really lets the film down. The dialogue is spunky and tight and doesn't stray into over-poetic territory, making for a good reflection of sports stars then and now. Petrol-heads will be able to nod sagely at the engine/model references and those over a certain age will appreciate the super-cool soundtrack and bellbottom jeans.
For some, there are only so many times you can watch cars going round and round really fast on a track so, thankfully, racing sequences are only thrown in when important – their final race together, for example – and more time seems to be taken over them. Extreme close-ups of the racers' eyes, tyres searing around a bend and violent collisions are all the better for it. Padding out key moments in the story with actual footage from the era is a nice touch, too.
We know Hemsworth can do arrogant – he's gotten pretty good at playing a certain Norse god – so sadly he doesn't make much of an impact as "immortal f**k" Hunt. That said; quieter moments when he is allowed to show some deeper emotion carry an extra spark.
German crumpet Brühl's stoic Lauda is the perfect foil; and there are few actors who can actually make you wince in your seat at an injury their character experiences onscreen. He is magnificent, and deserves to be known as so much more than "that Nazi in Inglourious Basterds".
With solid central performances and passion at its core, Rush will serve as a reminder of why Ron Howard is still one of the best and most sought-after directors out there today.
About The Author