Song For Marion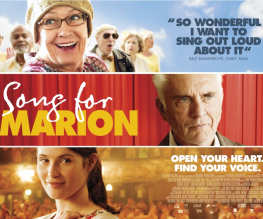 Remember that tearful, lingering conclusion to The Notebook? Or that brief, heartbreaking scene in Titanic, where an elderly couple clutch each other tight as the water steadily fills up their room and YOU KNOW they're both going to drown together but none of that matters because they have each other? Well, Song For Marion is an hour and a half of those tearful, emotionally stabbing moments – spliced with the occasional misplaced OAP joke. The film is distressing for the fragile but comforting for most. I say let loose, grab your hanky and let Song For Marion be a pillow to cry into.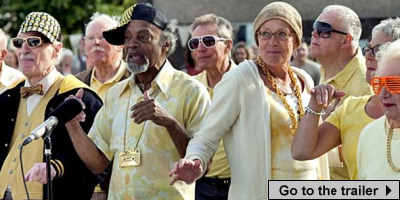 I'm not looking forward to repeating the plot, lest I end up soaking the keyboard with more tears. But here goes. Song For Marion is a beautifully heart-wrenching story about Arthur (Stamp), husband to the terminally ill Marion (Redgrave) and all-round bad Dad to his grown-up son, James (Eccleston). Marion and Arthur are polar opposites – Arthur is hopelessly miserable whereas Marion is the "life of the party" and keen to make the most of the what little life she has left. In comes Gemma Arterton, choir mistress to an elderly choir group who essentially sing Glee-style mash-ups of songs like 'Ace of Spades' and Gnarls Barkley's 'Crazy'; a choir which Marion is a big part of, much to Arthur's disapproval. But as Marion's health diminishes, Arthur must learn to put aside his dislike for the choir in order to please his dying wife and begin a journey of self-discovery.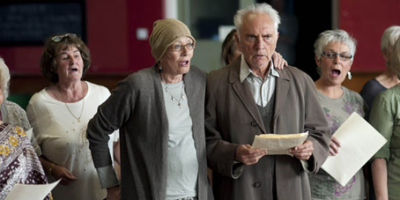 Song For Marion is not without its moments of predictable cheese, but that doesn't diminish the wonderfully tender scenes that see Redgrave and Stamp at their very best. If you've ever wondered what it's like to hear Terence Stamp sing and Arterton shake her booty in front of a bunch of OAPz (that's right) then you've come to the right film. Song For Marion doesn't miss a beat attempting to convey genuine love, but is sadly let down by Arterton's lacklustre performance, exposing her character as patronising rather than encouraging. She may allude the same characteristics as 'devoted lovely person helping out the old folks', but more often than not she sounds like an adult speaking to a child, making Song For Marion lose all sincerity.
Nevertheless, the film's weaker moments don't rest entirely on Arterton's shoulders. In what feels like a script that loves to spoon-feed, Song For Marion can often feel dreary and stiff, lacking the same grit that put director Paul Williams' London to Brighton on the map. While the film caters to a commercial 50+ demographic, 'feelgood' regularly replaces quality and Song For Marion subsequently takes a rapid turn into condescending schmultz; watching old people sing about sex and do the robot certainly has its appeal, but there's a fine line between harmless jokiness and taking the piss. Song For Marion buffers between the two. It all becomes a little awkward to watch. But somewhere underneath Arterton's irksome and patronising character, the cringey OAP jokes and obligatory feelgood montages, Song For Marion will undoubtedly pluck at your heartstrings.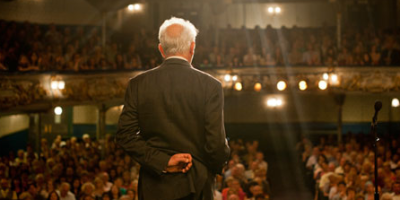 You'd be hard-pressed to see Stamp and Redgrave on better form; it's impossible – no matter how old you are- not to empathise with their depiction of the struggles between a family on the brink of tragedy. In a particularly touching scene where we don't even see Arthur's face, Stamp is extraordinary. Defined by a surface-invisible melancholy, Arthur's softening exterior may be somewhat predictable but I'll be damned if it's not heart-wrenching. Marion's moving performance of Cyndi Lauper's 'True Colours' was the film's turning-point; not only was I audibly (and loudly) crying but it saves Song For Marion from straying into unbridled mawkishness. Indulge in Song For Marion if – AND ONLY IF – you've come fully prepared with a box of tissues and a forgiving nature.
About The Author