Step Up 3D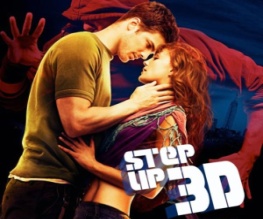 Have you seen a poster for Step Up 3D yet? All the ones I've encountered follow a simple pattern: dancer striking pose, huge logo and the insufferable tagline "The third Step Up film, shot in 3D". This essentially tells you all you need to know about the franchise – it is more about attractive dancers than anything traditionally associated with drama, each film trades shamelessly on the success of its predecessors, and the third instalment in particular has nothing to recommend it other than the box office success of Step Up/Step Up 2 combined with the must-have added element of 3D projection. That's basically it.
Warning: from now on, the frequent use of 'scare quotes' will be necessary when describing this 'film'.
Who needs a plot when you have pneumatic teenagers?
Step Up 3D revolves around two not-quite couples – Moose and Camille (Sevani and Stoner), from Step Up 2 and Step Up respectively, and new characters Luke and Natalie (Malambri and Vinson). When Moose arrives in NYC to begin an engineering degree, he immediately forgets his vow to give up dancing when he catches sight of a 'cool dude' in some 'slamming sneakers' and follows him to an impromptu dance 'battle'. That cool dude turns out to be Luke, whose converted Brooklyn warehouse, 'The Vault', is the home and training ground of his pet dance group 'The House of Pirates'.
Moose quickly becomes a vital member of the Pirates' lineup, but disaster looms when Luke's bank forecloses on the heavily-mortgaged Vault and Julius – ex-Pirate, Luke's nemesis (!) and leader of rival dance crew 'The House of Samurai' – attempts to buy it. The only way to save the Pirates is to win THE WORLD JAM, the BIGGEST hip-hop BATTLE of ALL TIME. EVER. Luke needs Moose's skillz to win the heats and ultimately the Jam, but will his not-quite-relationship with good girl Camille survive his deception? What about his grades? And what's the deal with Natalie, the smokin' hot and super-talented dancer who mysteriously turns up just as things start to go wrong? She looks suspicious. Ooh.
[FLOWPLAYER=http://uk.image-1.filmtrailer.com/34147.jpg|http://uk.clip-1.filmtrailer.com/4506_11749_a_4.flv,275,180]
Unoriginal sin
The most depressing thing about the whole film was how little effort has gone into anything but choreography. We know being a good actor and a good dancer are not mutually exclusive propositions; just look at Gene Anthony Ray playing Leroy in Fame. Look at Gene Kelly in Singin' in the Rain, for heavens' sake. And there are even some actors who can dance without being called Gene! Unfortunately, director Jon Chu and his depraved assistants didn't think they were worth employing for Step Up 3D. The actors can't, and the plot lurches over ill-thought-out lumps and bumps like a drunkard driving through a playground.
It's ridiculous, and so easy to predict that only the glaringly misused 3D effects will keep you awake. I managed to guess almost every element of the final scene around half an hour into the film – the only bit I missed was Luke giving his 'lucky' trainers to Moose as he symbolically confers leadership of the Pirates upon him, and I don't feel too bad about that since it's a carbon copy of Robin Williams giving that fat kid his sword at the end of Hook. In fact, you can sit and attribute every half-arsed plot point to another film – Flashdance, The Blues Brothers, whatever you fancy.
At no point whatsoever do you feel as if any thought went into the plot or structure of Step Up 3D. The dancing's excellent, obviously, but being surrounded by such cynical moneyspinning bullshit rather takes the edge off it. It's horrible to feel so strongly that a film is culturally negligible, truly it is – and even worse to see such talented performers being so dreadfully misused. Lazy, boring and an insult to dancers and viewers alike.
About The Author