The Deep Blue Sea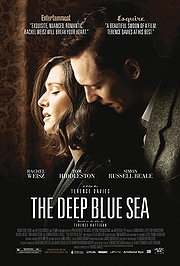 Terence Rattigan is perhaps the most insightful post-war British playwright, and his 1952 play The Deep Blue Sea is, in the words of drama critic Charles Spencer, "the greatest and most moving British drama since the Second World War". It's never that far from a London stage, but in the wake of Terence Davies' masterful new adaptation of the poignant drama with unplumbable hidden depths we can expect at least one more production before the Olympics stop anyone coming to London at all. This is the perfect introduction to one of our wittiest and most insightful dramatists.
The place is London, the time 'around 1950', and Lady Hester Collyer (Weisz) is deeply conflicted. On the one hand, she lives a privileged life with her husband Sir William (Beale), a judge and pillar of society who provides for her every need; but their relationship is companionable rather than passionate. "I don't approve of passion", sniffs Sir William's frightfully haughty mother at an excruciating dinner early in the film, "it's so dangerous. I prefer a restrained enthusiasm". That's as may be, but Hester certainly doesn't – although William has always made her happy in his way, she yearns for more from life.
She certainly finds it. When Hester meets Freddie the debauched ex-fighter pilot (Hiddleston), it's love – or at least lust – at first sight. Hester does her best to lead a double life, attending society events with her husband and then sneaking off to meet her lover in dingy pubs, but when she inadvertently reveals her secret to William she is forced to choose between the two men in her life. Astonishingly, Hester abandons her wealth to join Freddie in his shabby lodgings, but as the difference in their affections becomes clear Hester must decide if her own all-encompassing love is enough to drag her from between the devil and the deep blue sea.
A couple of weeks ago, the London Film Festival played host to The Ides of March, another adapted play with an strong reliance on subtly nuanced dialogue. George Clooney's attempt was certainly nothing to wince at, but in bringing The Deep Blue Sea to glorious cinematic life Terence Davies succeeds in every way that Clooney failed. Davies opens with about ten almost dialogue-free minutes, panning dreamily across various combinations of sleeping and writhing bodies to an accompaniment of haunting strings. Although the visual and aural introduction to the film is intoxicating and intense, the feeling of detachment which accompanies it makes the beginning of the spoken scenes feel like coming up for air.
Once things get going, though, you'll barely take another breath. Despite the relatively uneventful plot, Rattigan's dialogue, which is appreciably of its time without feeling dated, provides an instant feeling of acquaintance – even friendship – with the main characters and especially with Hester. Rachel Weisz is following in the footsteps of Peggy Ashcroft, Vivien Leigh and more recently Greta Scacchi, and she gives a performance worthy of any of those actresses and more besides; tender, well-meaning and heartbreakingly sad, watching her helpless lovelorn mishaps is almost tortuous. Elsewhere, Tom Hiddleston (last seen wielding a spear in Thor), is by turns charming and hateful as the childish borderline alcoholic Freddie, whilst Simon Russell Beale makes the most of his scant screen time with an instantly familiar performance as poor, ponderous, loving William, excruciatingly aware of his own inadequacies but powerless to correct them.
Although Hiddleston will doubtless land a few juicy roles off the back of his performance, nobody needed to be reminded of either Terence Davies', Rachel Weisz' or Simon Russell Beale's surpassing talent. However, such a perfect synthesis of performance, script and direction is a very rare treat. Engaging, enchanting and ultimately as upsetting as they come, this is unquestionably the real deal.
About The Author