The Kid with a Bike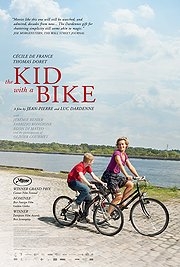 The Dardenne brothers have become specialists at dealing with the themes of displacement and troubled youth. Their expertise in this area garnered them a Palme D'Or nomination in 2002 for The Son, before they won the coveted prize in 2005 for The Child. The Kid With A Bike continues this thematic interest. While the film is more restrained in its style and less ambitious in scale, it is nonetheless a frank portrait of troubled childhood.
Cyril (film debutant Thomas Doret) is a 12-year-old boy living in a children's home. Confused about why he got put in the home in the first place, Cyril becomes obsessed with tracking down his father, who told him that he'd only be staying there for a short while. During one of his attempted getaways, Cyril quite literally runs into Samantha (Cecile de France), who takes a liking to the boy and decides to look after him on weekends. Not fully aware of Cyril's troubled past, she soon has her hands full as she must deal with his bouts of rage, runaways, and vulnerability to falling in with the wrong crowd.
As the title suggests, the film focuses almost entirely on the energetic but troubled Cyril. He is pathologically restless; a fact emphasised by his tendency to be constantly on the move, be it running away from someone, looking for his dad, or riding his bike, , and driven by a naive optimism that his father will want to take him back. Cyril's red jacket and unvocalised anger feel like a nod towards James Dean in Rebel Without A Cause, except that he is much more vulnerable than the Hollywood icon. Despite his fighting spirit, Cyril's slight frame and pained eyes mean that we're constantly fearing for the boy's safety.
Cecile De France puts in a great performance as Cyril's foster mum. While her love for him is established a bit too suddenly to seem completely natural, it is nevertheless neatly expressed through subtle glances and warm smiles. She tolerates Cyril's erratic behaviour to the point where she's prepared to end relationships for him, as he refuses to be fathered by anyone other than his hapless biological dad. His father's swift and cowardly rejection of his son means that the film takes a different trajectory to the one we initially expect, as Cyril must, with Samantha's help, come to terms with his new fatherless life.
The Dardennes are typically unintrusive in their styling; music is saved exclusively for moments of heightened drama, and the camera creates a feeling of us struggling to keep up with the ever-kinetic Cyril. These are counterbalanced by static moments of wordless communication, which touchingly establish the bond between Samantha and her young charge. An equally wordless bond is established between Cyril and the local drug dealer Wes, but while the former is made genuine by the revealing and warm facial expressions, the latter is artificial, as Wes uses video-games and small favours to bend Cyril to his will…

The Kid With A Bike is short, accessible and touching. Its minimal style means that it relies on nuances in performance and camerawork to have its desired effect, and the Dardenne brothers pull this off astutely. At points it feels like the story is fast-tracked, as Cyril's relationships with those around him seem to get formed from one scene to the next; but it does allow the film to focus on the troubles of both childhood and single parenthood, touchingly illustrating how they can be overcome if both parties show the willpower to work through the inevitable tough times. With its unmediated feel, this is another Dardennes film that affects us by being subtle rather than spectacular, and feels more honest for it.
About The Author