The Way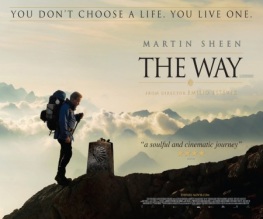 We start by being introduced to the kindly, if a little staid, Californian ophthalmologist Tom (Martin Sheen) telling off an old woman for not wearing her contacts, finishing up work and popping out for a spot of golf. While indulging in his relaxation he receives a phone call to tell him that his estranged son (Emilio Estévez) has died while attempting to complete the 'Camino de Santiago'; a 1000 year old, 800km pilgrimage from France to Santiago de Compostela in Spain. Tom never approved of his son's chosen path and their relationship is a little icy when his son, Daniel, passes.
[FLOWPLAYER=http://uk.image-1.filmtrailer.com/72730.jpg|http://uk.clip-1.filmtrailer.com/4400_22729_a_5.flv,275,180]
When Tom goes to France to collect the body he decides that bringing it home is the wrong course of action to take; instead he has him cremated, dons his son's rucksack and jacket and undertakes the pilgrimage himself with his son's remains in tow. Unwilling to open up to other travellers Tom still manages to become part of a group of pilgrims which consists of damaged Canadian Sarah (Deborah Kara Unger) pot-smoking Dutch man Joost (Yorick van Wageningen) and loquacious Irish man Jack (James Nesbitt). Each has undertaken the pilgrimage for different reasons.
Tom would usually be happier out on the golf course with his country club friends than hiking along some sacred path but, of his band of happy pilgrims, he comes across as the most genuine in his journey. The others are doing it for the experience or to get away from their other lives but Tom is doing it to reconnect with his dead son. His catharsis is exactly what Daniel wanted him to experience and despite the rocky relationship they had on his death Tom comes out the other end respecting his son and knowing himself a little better.
Most of the praise due to The Way should be dropped at Martin Sheen's feet; the fact that Emilio Estévez plays his son and is his son in real life must have had some effect on how he portrayed the mourning father. The pain he feels is tangible and unwavering throughout. Tom often sees Daniel along the way; he hears his son's voice and relives some of the times that they spent together; reacting as if he was really there. On paper this surely came across as a massive cliché but Sheen stares that cliché right in the eyes and transforms it into a beautifully emotive scene.
Some may find the plot to be a little bit sparse (long scenes of the group walking with nothing happening) but the visual experience of the film makes up for it one hundred times over (although I think much of that is thanks to the beautiful landscape in which the film is set). Estévez makes a sincere effort to distinguish the difference between the life we chose and the life we lead; it is a well-intended message with true emotional resonance for everybody. While the 'Camino de Santiago' is a religious pilgrimage and Martin Sheen is a religious man The Way manages to sidestep any preaching that could have been included leaving the plot to be (mostly) secular.
Including clear influences from The Wizard of Oz (waking on your soles to help cure your soul) and amazingly beautiful acting, cinematography and everything else that goes into a masterpiece, this is a truly inspirational film.
About The Author