Tyrannosaur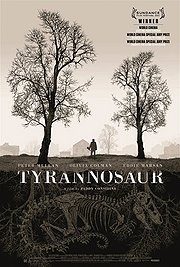 This troubled drama reunites screenwriter and director Paddy Considine with actors Peter Mullan and Olivia Colman, both of whom appeared in Dog Altogether, the short film which Considine has expanded into Tyrannosaur.
This film wastes no time in setting up the tone of the film by introducing us to Joseph (Mullan), who is an unemployed widower, a drinker, and is very possibly a little bit mental, as he goes flying into an uncontrollable rage. Our second troubled soul is Hannah (Colman), a Christian worker at a charity shop, who appears to lead a respectable, normal and happy life. When the pair finally meet Hannah appears to be Joseph's much needed saviour, someone who can deal with his fury and offer him kindness and acceptance. As the story develops Hannah's own secrets are revealed — her relationship with husband James (Marsan) is a lot more turbulent than she would have us believe — and as events begin to go haywire, Joseph becomes her source of safety and comfort.
The first thing that must be said about this film is that it is not for the faint of heart. It is so violent and uncomfortable at times that you find yourself looking away in fear of seeing something that may give you nightmares, but then a film of this particular nature needs tat kind of content to really hammer the message home. Besides, no-one said this was a light-hearted comedy. However there were moments of brief comic relief courtesy of Joseph's drunk friend Tommy, who dreams of opening a zoo for exotic animals (none of your run-of-the-mill lions and gorillas). That aside, this film is a deep, reality driven, look into the world of volatile troubled souls and domestic violence victims. Hardly a walk in the park.
That being said, to have to play characters in such a depressing environment takes some real skill. The raw and blunt delievery of lines, the moments of complete and utter emotional breakdown and the silent, powerful staring contests seriously brought this film to life.
In particular Mullan's intense performance as enraged, potty-mouthed Joseph, and Colman's sweet devout Hannah are like chalk and cheese, yet they manage to connect in such a heart-felt and genuine way. It is in fact a very impressive and unexpected performance by Colman, who is an actor better known for TV comedies, and her potrayal of Hannah gives the film its deeply moving soul. Not forgetting Marsan, with his terrifying weirdly shaped head as well as his finely tuned ability to play a bad, VERY bad man, with looks (and fists) that could very easily kill.
At its core Tyrannosaur expresses how love and friendship can be found even in the darkest of places. And despite the revealing and depressing story, there does appear to be a strong underlying feeling of hope. Tyrannasaur was well written and directed, and the actors performed to the best of its ability, and if you like gritty realistic dramas with an undoubtedly committed cast, then you're in for a real treat.
About The Author