West is West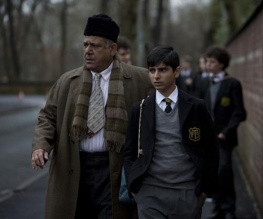 Right, first things first: if you haven't seen East is East, go and see it now. Seriously, stop reading this and go – West is West isn't even out until February, just bookmark the review for later. It's only £5 in HMV, you can definitely afford that. Go, watch it and come back here when you're finished. NOW.
It's good, isn't it? Really, really exceptionally bloody good in a way which you don't really expect anything to be in an imperfect world. I love East is East's humour, its pathos and its protagonist George's habit of calling everyone "bastard!" without even giving them the dignity of an indefinite article. I love it for opening a universally acclaimed window into the life of a typical (if exaggerated) British Asian family and giving me a glimpse of a life I've never truly understood, and I love it for its frankly gratuitous use of curses based around the word 'knob'. I love it so much that I was frankly terrified at the prospect of seeing its sequel. For once, I needn't have worried.
[FLOWPLAYER=http://uk.image-1.filmtrailer.com/60971.jpg|http://uk.clip-1.filmtrailer.com/6700_20064_a_5.flv,275,180]
West is West is set five years after the original film (despite not being made for eleven years of real time), and follows some of the familiar characters from Salford on a truly extraordinary journey. Odd couple George (Puri) and Ella (Bassett) are still running George's English Chippy and have watched all but one of their seven children fly the nest – the only one left is fifteen-year-old troublemaker Sajid (Khan). When Sajid's transgressions escalate from skipping school to shoplifting and George realises that racist bullies at school are making him hate his heritage, father and son go on a trip to their home country of Pakistan. The only trouble is that Sajid speaks not a word of Urdu or Punjabi, has never visited Asia and is fiercely disparaging of the "dirty Pakis" amongst whose number he definitely does not count himself.
George and Sajid return to the family home and are met by George's two grown daughters and his first wife Basheera, none of whom he has seen for nearly thirty-five years since emigrating and taking a second bride. As Sajid gradually takes to the gentle pace of life in Pakistan and begins to find friends in the village, George is forced to confront the possibility that in abandoning his family he was guilty of a greater sin than any of his free-living and secular sons.
There's nothing new about noting that sequels seldom live up to their predecessors, and to some extent West is West is no different. It was never going to be a genre-defining film in the same way that East is East was, but as a stand-alone drama it is more than worthy of a place alongside the first chapter in what I am assured will be a trilogy (the final film will begin development next year). At the London Film Festival press conference after the film was shown, writer Ayub Khan-Din – who, incidentally, based both films upon his own early life in Salford – explained that rather than try to write a pro-Pakistan film, he worked upno the basis that 'emotion is universal' and that the very specific tribulations of the Khan family would resonate with audiences everywhere.
He's dead right. Without wishing to give too much away, the drama which engulfs the Khans is one which has elements present in every family's collective life. Om Puri once again gives a thrilling performance as frustrated patriarch George, and newcomer Aqib Khan's debut screen role as the Salford yob who finds something to live for in the dust of his homeland would justify the cost of a cinema ticket all on its own. Linda Bassett is underused as put-upon wife Ella (although she is more than compensated for by "Mrs Khan No. 1", hauntingly brought to life by Ila Arun). West is West may not quite be as fresh and exciting as East is East, but it is a very worthy sequel and one which will not disappoint a single fan of the original film. Bravo.
About The Author